QUICK FACTS
Title: Account Executive
Department: Sales
Time at Rhythm: 9 months
TELL US ABOUT YOUR RHYTHM EXPERIENCE
What made you want to work here?
The challenge, our team of great people, and the must-have future-proof solution that is the Rhythm platform. It's time to disrupt the state-quo and challenge what an AMS is and can be for all the great associations out there.
What does a day in your current role look like?
My typical day involves introducing Rhythm to a variety of people and organizations, plenty of Zoom meetings, follow-ups and working solutions forward on behalf of interested associations. I also spend a good chunk of time planning personalized demos and responding to RFPs (Request for Proposals).
What do you enjoy most about being an Account Executive?
I'm honored to have the trust of my team to lead and develop relationships with outstanding organizations — and of course, it doesn't get better than helping association staff find AMS they can actually love.
Which Rhythm core value do you connect with the most?
Honesty and Transparency. Like the associations we serve, we put people first and are people-driven. We know that leaders must first trust others before others will trust them.

The search and implementation process for a new AMS doesn't have to be daunting or overly complicated. I'm proud that we can offer a robust and straightforward opportunity for associations to grow their mission while simultaneously resolving many long-standing staff & member points of friction.
How have you grown professionally since joining the team?
I've had the joy of driving my own professional development through learning the Rhythm solution and how it can be a driving force for positive change.
What's an accomplishment you're proud of?
Supporting several organizations moving forward with the Rhythm platform while eliminating staff and member friction going forward.
TELL US A LITTLE MORE ABOUT YOURSELF
What's the best piece of advice you've ever been given?
I'll cite the golden rule here…it is universal, always applies, and has timeless relevance. Treat others the way you would want to be treated.
What are some of your favorite hobbies or pastimes?
I love travel, hiking in Colorado, kid-size adventuring, sharing a laugh, and a great cigar on occasion.
What's something most people would be surprised to learn about you?
I graduated from Film School and traveled internationally working as a writer-director. Later on, I was recruited by The Walt Disney Company to develop interactive video & fandom products.
If you could meet a fictional character in real life, who would it be and why?
I'll pick Gandalf - he's wise, funny, and experienced.
If you won the lottery tomorrow, what's the first thing you'd do?
If I won the lottery, I'd take the family around the globe for a year!
What song would be on the soundtrack of your life?
All You Need Is Love by The Beatles.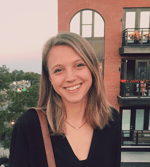 Anna is a Marketing Manager at Rhythm. When she's not writing about our latest product releases, you can find her dreaming up her next adventure, riding her bike, or baking her famous espresso chocolate chip cookies.