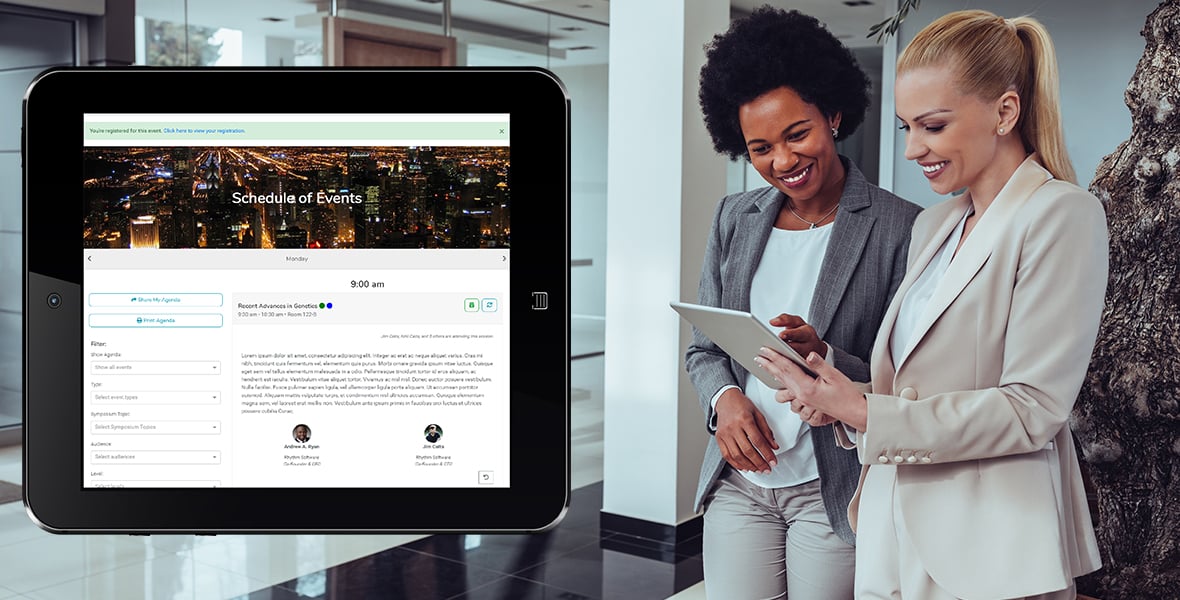 Events are a critical time for associations. They're community in action - a time to build relationships, share knowledge, and make an impression. Events are a key part of your member's journey. Rhythm is committed to helping your attendees make the most of their experience, starting with how they manage their time using event agendas.

Viewing the Schedule
With a progressive web-app, your attendees can view the entire conference schedule in a single place from any device
Populate session information, including the description and speakers, directly from the AMS
Make it easier for attendees to find sessions that interest them with the filter feature, allowing them to search based on configurable tracks, topics, audiences, levels, and keywords
A Configurable Agenda
While perusing the event schedule, attendees can add (and remove) sessions to their agenda with a click of a button, even while on-site
Some people just like paper - no biggie! Attendees can print their agenda after they're done arranging it
Make it easy for group coordinators to manage their team by allowing them to review or modify the agendas of their colleagues
Listening to associations to deliver the best attendee experience
The best user experiences happen when technology knows you. To create the Rhythm event agenda, our team started by listening to associations - collecting ideas and feedback from our earliest customers.
One of the things that we heard about a prototype of the event agenda was that it could be easier to use. Talk about music to our ears! With customer observations, we were able to make this functionality much more intuitive for your attendees.
"We felt heard. You took our feedback and did exactly what we asked you to do." - Early Access Participant
What do you wish your current AMS could do? Is there something it could do better? We want to make sure Rhythm does exactly what association staff and their members need it to do - that's why we're inviting a limited number of associations into our Early Access Program. If you (and your members) are tired of fighting with your AMS - this program is for you.