Every day, associations work tirelessly to make sure that their members' voices are heard in their corner of the world. Whether they're working to make advancements in their respective fields, are passionate about a hobby, or just want to meet like-minded individuals, association staff work hard to bring their members' dreams to reality.
So, what am I here to do? Using my past experience with associations and customer success, I'm here to be the voice for the association staff – those who team up with Rhythm (because here you're more than a customer, you're our partner).
Partnering with an AMS is a big commitment for your association. It requires trust and a significant financial investment. Let us hold up our end of the bargain – providing you with the best experience possible.
How I'll Do It
Every customer interaction should be geared towards fostering an environment of inclusion among our customers. At Rhythm, our North Star is to delight the customer - always. Here's how I plan to keep that promise:
1. Providing a Consistent Voice
We strive to provide one consistent experience to our customers, no matter the touchpoint. By maintaining detailed documentation, we're able to answer questions quickly and accurately, because we know you. With a consistent voice, you'll know us, too.
2. Promoting Customer Advocacy
Long gone are the days of transactional relationships. When you become a Rhythm customer, you're given a driver's seat view into the direction of the product. Your feedback will directly influence the product roadmap and shape the future of Rhythm.
3. Tuning Our Processes
As we continue to grow, some things will begin to change. Rhythm's customer-first approach is one thing that won't. To ensure this, we're constantly refining our processes to keep customers like you front of mind. Through feedback forums, surveys, and communication we're able to consistently improve our platform and keep you and your association the priority.
Associations like yours are the reason why we're here. You're the reason I - we - get to do this. Now let's get to work.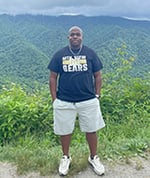 As Director of Customer Experience, customer joy is what fuels Armond. When he's not converting Rhythm customers into champions, he's volunteering as a head coach for the local youth football team.