Meet the Founders
The way we see it, associations do so much good in the world, it's time that association management software did some good for them.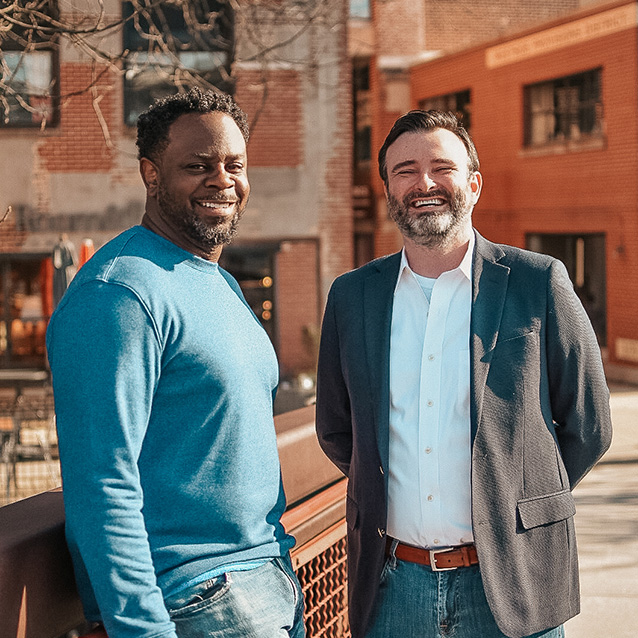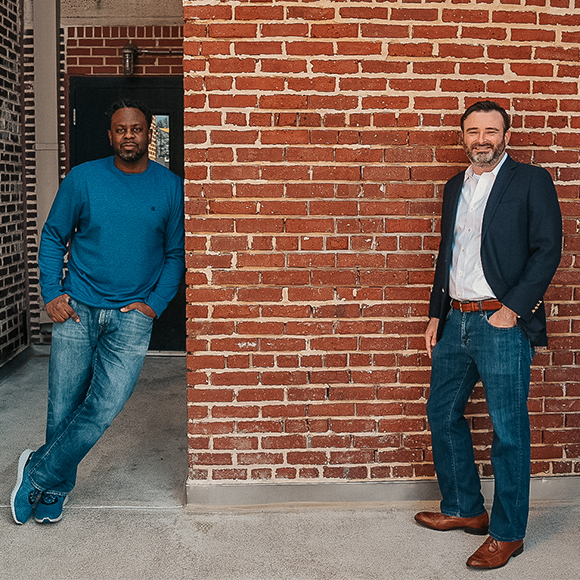 Associations Are the Heart of Everything We Do
We're inspired by you. Associations work diligently to do good in their industries, professions, and communities, and you deserve technology that moves you forward. You're why we're in this space and why we work every day to make an AMS that your staff and members can love.
Andrew Ryan
co-founder + CEO
After graduating from MIT and working as an IT Director for the National Society of Black Engineers, Andrew realized that there weren't any viable AMS solutions in the market. He was determined to build something better. This led Andrew on a 20 year journey to bring associations the technology they deserved.
Jim Catts
co-founder + CTO
The first database Jim ever built was to organize his baseball trading cards at age 10. Since then, Jim has been at the forefront of emerging technology – from SaaS to serverless and cloud-native. For the past 16 years, Jim has used his tech smarts and innovative ideas to unlock new possibilities for the association space.
When Andrew and Jim first met in 2006, they had a shared vision of bringing innovative technology to associations – a group that is typically underserved – through a SaaS delivery model.

SaaS was a new concept at the time, and associations were hesitant to trust it. Still, Jim and Andrew were watching trends in the broader technology landscape, and they saw the potential SaaS had to remove the burden of upkeep and lower costs for associations.

AMS providers took on the burden of managing servers, but it wasn't ideal. Then, the public cloud (AWS) allowed us to lower the barrier to entry even more - making it possible to offer a cutting-edge AMS at an affordable price to smaller associations.

In the beginning, SaaS was rigid. This presented complexities for associations who needed the ability to customize their AMS to fit their unique processes.

Over time, technological possibilities expanded. Andrew and Jim were able to build a customizable SaaS platform that allowed associations to tailor their system and take advantage of the benefits that SaaS unlocked.

An affordable, customizable SaaS-based AMS opened the door to a lot of associations. This meant we needed to devise a plan on how to onboard associations at scale.

Honestly, it was challenging. There were a lot of competing priorities across implementation, training, support, and system performance.

Many of the challenges Andrew and Jim were facing couldn't be solved with the technology that existed at the time.

Being cloud-hosted was still a heavy lift for AMS providers. It was a large responsibility to be managing databases, servers, and security - and it didn't leave much margin to make improvements to the platform.

Members of our team were at an industry conference in 2017 when the speaker asked a room of 200 people, "who here loves their AMS?" Not a single person raised their hand. In that moment, we knew something needed to change.

Emerging technology - microservices, serverless, and continuous deployment - presented overwhelming possibilities for associations.

They allowed us to transform something as big and complicated as an AMS into a fleet of interconnected parts, each dedicated to just one aspect of the association and member experiences, but working as a cohesive platform. A truly cloud-native architecture.

This approach made way for a powerful, affordable AMS without all of the overhead.

Advancements in technology always come with potential - Andrew and Jim wanted to use that potential to make a difference. It's one of the many reasons why they love working with associations and non-profits.

A cloud-native approach meant that AWS took on a larger share of the responsibility to keep the platform performant and secure. That meant our team would have more time to speak with customers and make innovative progress with their feedback.

That was the vision they had for Rhythm.

Andrew and Jim knew that in order for associations to love the Rhythm platform, they needed to have a say in how it was built. Ten associations – trade associations and professional societies – gave us feedback for 20 weeks. They shared what they liked, what they didn't, and lots of ideas that ultimately made the platform better.

The best partnerships are the ones that, together, drive an industry forward. In Kellen, they found a partner who shared Rhythm's vision to design and implement technology solutions to help associations thrive.

Our combined experience and dedication to the space help us to enhance member experiences and empower associations to innovate around the value they bring to their industries and communities.

In 2021, Rhythm tripled in size - both the size of our customer base and our team. More and more associations started to see the value of an innovative platform, so Andrew and Jim knew Rhythm needed a team of superstars to deliver on our mission.

The implementation strategy was key. Through a predictable process with an abundant amount of resources, we found a way to take the pain out of AMS implementation. We knew we unlocked the secret formula when customers started telling us we felt like an extension of their team.

That commitment continues long after go-live. Those superstars get to know your association and understand the experience you want to create for your members so we can help you do it.

As the AMS, our database serves as the center of your technology stack. While we offer extensive functionality, we know there are going to be times when you want to expand on what we do with integration partners.

That's why it is a critical component of our approach.

Rhythm partners with the names you know and love in association technology, so we always have a recommendation ready. And if you have a new name to add in the mix? We want to hear about that, too.
Typography
Display 1
Display 2
Heading 1
Heading 2
Heading 3
Heading 4
Heading 5
Heading 6
Paragraph
Small Paragraph
Large Paragraph
Blockquote
Large Blockquote
---
Lists
Unordered List
List item
Lorem ipsum dolor sit amet, consectetur adipisicing elit, sed do eiusmod tempor incididunt ut labore et dolore magna aliqua.
List item
Ordered List
List item
Lorem ipsum dolor sit amet, consectetur adipisicing elit, sed do eiusmod tempor incididunt ut labore et dolore magna aliqua.
List item
Check List
List item
Lorem ipsum dolor sit amet, consectetur adipisicing elit, sed do eiusmod tempor incididunt ut labore et dolore magna aliqua.
List item
Tables
| th text | th text | th text |
| --- | --- | --- |
| td text | td text | td text |
| td text | td text | td text |