You need to review a lot of information from your members. Applications for membership and certifications that require committee approval, nominations for awards and committees, calls for abstracts - that's a lot of paperwork! And receiving all these submissions is just the beginning. Now each one needs to be reviewed by a committee or judging team; often through multiple rounds. It would be easy for something to slip through the cracks.
That's why we teamed up with associations to help us design an app to keep track of it all. The Submissions + Reviews app gives you a centralized view into all your different submission processes. Think of it as your command center where you can make sure all your submissions get their proper review and nothing gets dropped.
Then we took things a step further. The Submissions + Reviews app lets you collect and review information of any kind. Request for travel, honoraria, sign-in forms, and more. Any time you would reach for a form, email, or spreadsheet to collect and review any information, you can now automate the process with the Submissions + Reviews app.
No matter the type of submission your association is receiving – Rhythm is here to help you throughout its entire journey.
Organize and review any type of submission with our robust Reviews + Submissions application
Thankfully, submissions and reviews no longer need to be such a manual process. With Rhythm's Submissions + Reviews app, you can:
Craft a submission process for anything that needs review
Create custom forms to collect any information you need
Create configurable review rounds + criteria
Designate review teams + buckets


Configurable submission process
Every association should have the flexibility to tailor their AMS. That's why Rhythm allows each submission type to have its own configurable submission process.
Now, your association has complete control over what the submission journey should look like – and your members have a streamlined process and clear visibility into the status of their submission.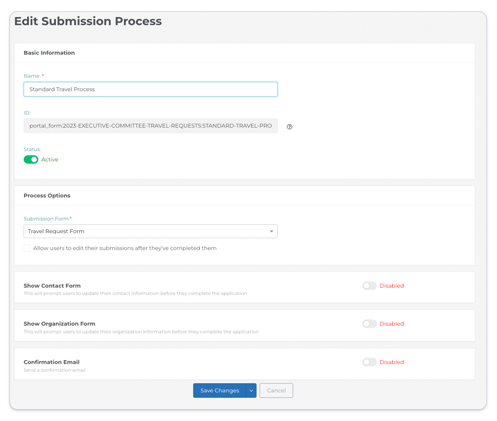 Powerful review process set-up
After you've gathered all of your submissions you'll need a simple way to assign review teams, rounds, and review criteria.
Rhythm lets you configure your review process with custom review criteria, buckets to group similar submissions, and as many review rounds as you may need.
When it's time to assign reviewers, you can easily create review teams, optionally designating an administrator to keep things moving along.
Easily apply any rules you might have to make the review process your own. You can define review deadlines, maximum scores, or even enable blind reviews.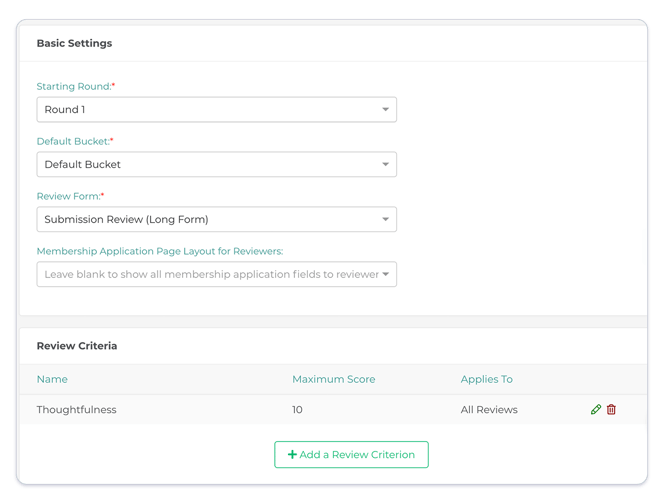 User-friendly review process
We know how important it is to have a frictionless review process – especially when reviewers are often volunteers who have chosen to help out. That's why we made it super user-friendly for reviewers to log in and see exactly what they are assigned to review. Plus, with configurable review forms and fields, you're able to streamline the information that they should include in their review, eliminating any guesswork.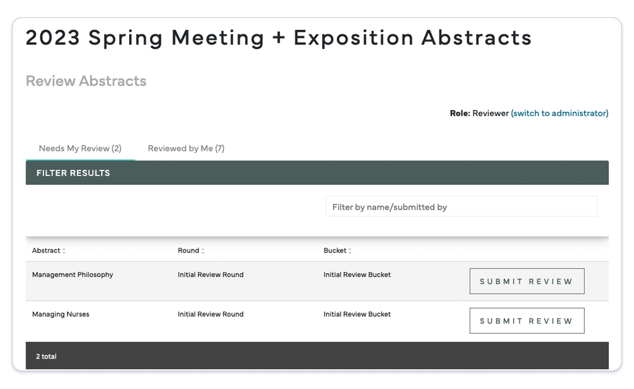 Insight into the status of submissions
Your staff has a lot to keep track of; tracking the status of each submission shouldn't add to their plate. In Rhythm, you have clear visibility into each submission – who is assigned to review it, the status of the review, and whether it's been accepted or denied.
If you want to dig a little deeper, you can drill down to the reviewer level to see exactly what each reviewer has completed, or everything a review team has done as a whole.
Plus, you have clear visibility into each review round to track progress every step along the way.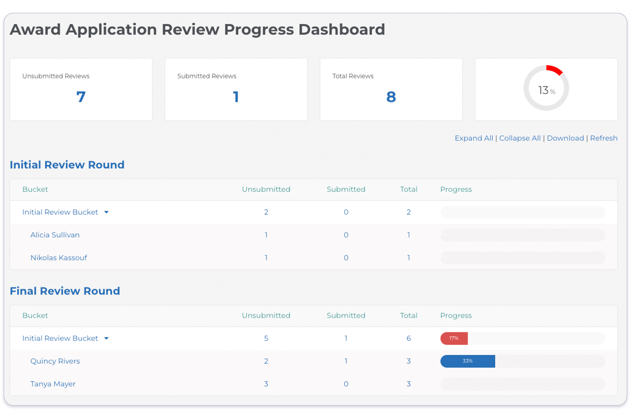 Dedicated spaces to group submissions
If your association accepts multiple types of submissions – don't worry, we've got you covered. Submissions + Reviews allows you to group similar types of submissions by easily creating as many spaces as you need.
Keep everything organized by creating a space for certification submissions, membership application submissions, travel voucher requests, or anything else you need to review.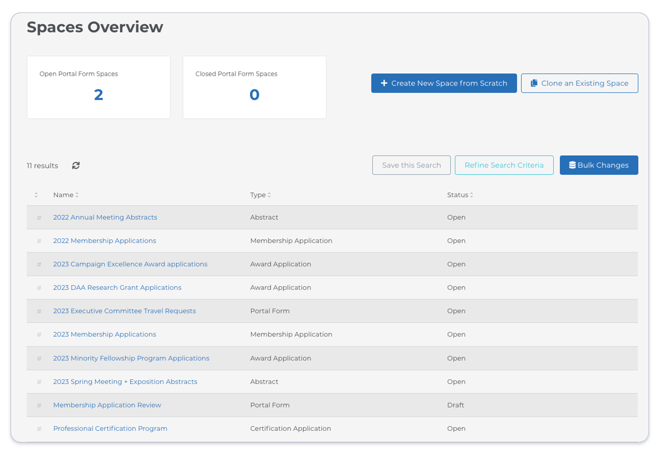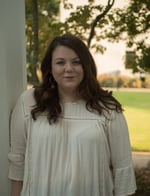 Emma is the Marketing Manager at Rhythm. When she's not thinking about all things content-related, you can find her traveling or shooting 35 mm film.