Your organization relies on the generosity of your donors. And you need a platform that makes it easy for them to give, in whatever form they are able. From timely campaigns that rouse people to support to an emergency fund to in-kind donations, pledges, and recurring donations – it should be easy to collect funds and allocate them appropriately.
Rhythm has always supported giving in the form of simple donations, but now with the Fundraising + Gifts app, you have access to an advanced suite of donor management capabilities. With this app you can manage giving of all kinds directly through your AMS.
Introducing the Rhythm Fundraising App – a comprehensive tool to manage gifts and donations
A powerful giving platform can also be easy to use. With Rhythm's Fundraising app, you can:
Set up multiple funds, and multiple merchant accounts to route donations directly to where they belong.
Create a frictionless experience for donors to give with public giving pages
Accept a wide range of giving options such as recurring donations and pledges
Maintain full history of a donor's donations and gifts
Recognize your frequent and lifetime donors with donor recognition clubs
Track multiple campaigns and appeals to see which has the biggest impact
Donations, made easy
Every organization should have an easy way to accept donations and gifts. That's why we created public giving pages – potential donors won't need to log in or create an account just to donate. This streamlined interface encourages donors to give in as few steps as possible.
In the same spirit, we created simplified forms for the donation process. Using these forms, you can collect all of the information you need, and nothing that you don't. Public giving pages and simple forms, two new tools to help your donors give back easily and quickly.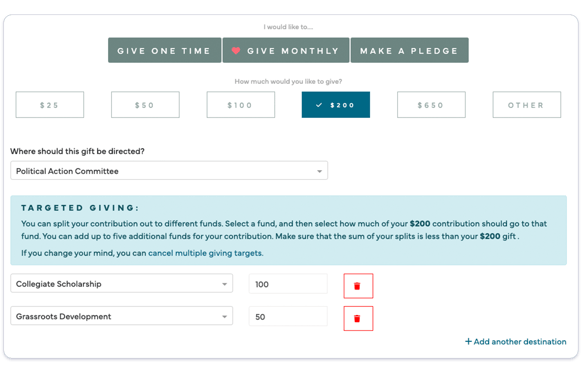 Support multiple funds with unique attribution rules
You have complex fundraising needs, but we've got you covered. You need a donor management system that allows you to define separate funds and route donations directly to independent organizations.
In Rhythm, you can do just that. Set up multiple funds, using multiple merchant accounts to route donations directly to where they belong. With the ability to configure as many funds as you need, tracking becomes streamlined and accurate.
You can configure your funds to be restricted or non-restricted based on your organization's needs. Plus, you can enforce annual contribution limits to comply with giving regulations.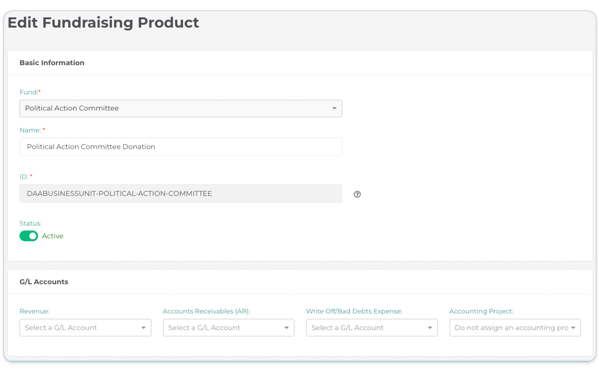 Accept a wide range of donations
Donors are vital to your organization – and you want to encourage them to give however they're able. With Rhythm, you can create a community of giving with in-kind donations and tribute gifts – allowing donors to gift goods and services or to make a special donation in honor of a loved one.
Give your donors a tool to plan their giving with the option to schedule recurring and planned gifts or to pledge donations over a period of time.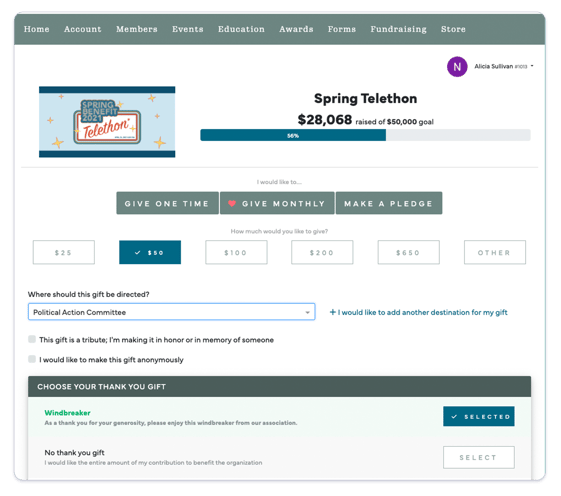 Exceed giving goals with campaigns and appeals
When something unexpected happens in the world, people often look to associations and nonprofits to lead the response. Whether it's a one-time rallying cry or a drumbeat of support through an annual pledge drive, you need a way to manage and track the impact of your campaign.
With Rhythm's fundraising campaign feature - you can easily create time-bound fundraising campaigns and appeals to track progress towards your shared goal.
A lot of work goes into a campaign - direct mailings, phone-a-thons, galas, auctions, and more. Track each of these individual efforts using our appeals functionality to determine which form of outreach created the biggest impact during your campaign.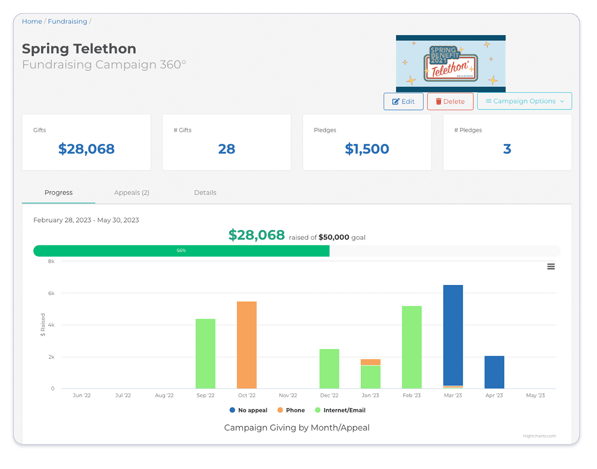 Track your donors' giving history
Your donors support your organization and they deserve some recognition.
Anytime anyone makes a donation through Rhythm, it will be tracked on their donor profile. From there, you can see a full history of all donor activity.
Create donor recognition clubs to highlight groups of donors for lifetime or frequent giving, offer premiums or thank you gifts alongside donations of a certain amount, and even track soft giving credits for spouses or individuals connected to organizations that donate.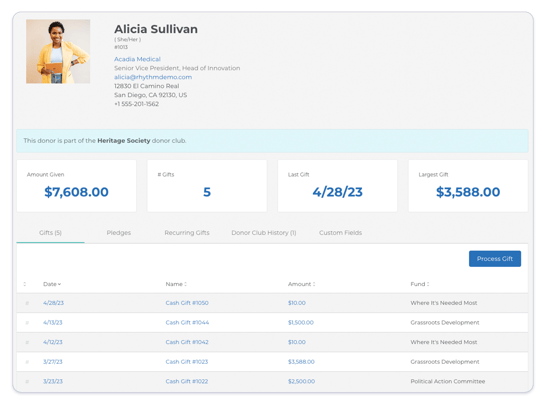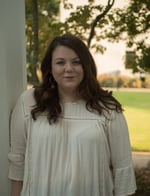 Emma is the Marketing Manager at Rhythm. When she's not thinking about all things content-related, you can find her traveling or shooting 35 mm film.