Your members want to be in the know. They view membership as a type of community, so they want to have access to certain kinds of information. Whether it's a list of event registrants or certified individuals, giving members a way to dive deeper adds value to your membership offering.
To help your members get the information they need more quickly (and to make it easy on your staff), Rhythm has launched various types of directories that can be configured and enabled in your association's portal. So, what are they? In the Rhythm platform, Directories are searchable modules that allow users to look for specific information using fields and keywords.
Almost everything about your directory can be configured in the console - from choosing which fields of criteria members can use to search, to grouping similar fields together, to enabling messaging. You can even customize the look and feel of your directories to match your association's branding by using templates or custom CSS.
Rhythm Directories: A Better Way to Search
From contact and organizational directories to event registrant or certified member lists, directories are an invaluable tool for members. The great news: members can get all the amazing benefits and you can still enjoy granular control over the parameters of those benefits. Here are just a few of the options you'll have with directories:
Fine-tune the criteria members can use to search
Group relevant fields together
Enable or disable messaging capabilities
Choose exactly what information is displayed in search results
Style your directories using templates or CSS
Event Registrant Lists
Let members search for event registrants using criteria like Organization, Title, or Membership Type. Along with every other type of directory, you can decide who has access to this list, configure the design and styling, and decide exactly what fields of information will be displayed on each record.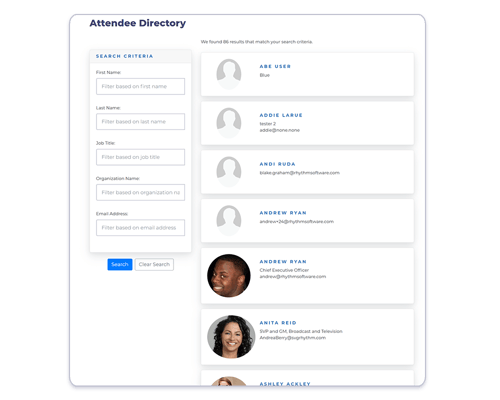 Certification Directories
Certification Directories are a big bonus for members. Allow them to search for other certified professionals with options like Industry, Status, or Location. Help members find trained professionals in their area, learn more about who's certified, and what the process is like. You'll get to decide what information is displayed, how the directory looks, whether or not messaging is enabled, and a lot more.

We're better together - and connected. Boost referrals from within your association, strengthen the value of your membership offering, and build a stronger community with directories.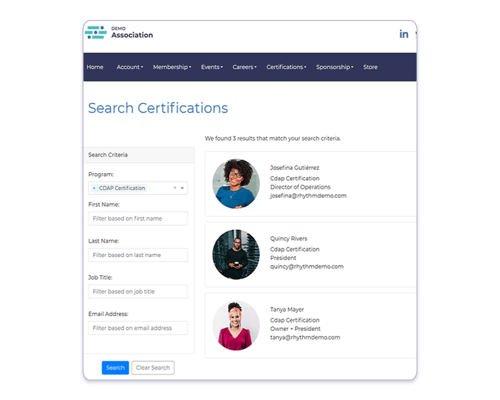 Contact and Organizational Directories
A directory is only as good as its search options, so you determine exactly which criteria members can use to find other contacts and organizations. Choose from any field of information stored in the CRM app (including custom fields) like Organization, Title/Role, or Status. Then, group criteria into sections that help your constituents find what they're looking for more quickly. If enabled, people can even search for contacts within a certain geographic radius.

Or, they can use organizational directories to find providers or vendors in their area with search categories like Status, Location, or Type/Category (Industry).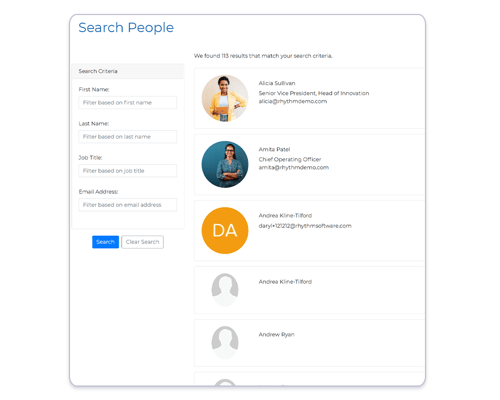 Membership Directories
Membership directories are an easy way for members to find other members. Sometimes membership is associated with an accreditation, and users want to use these directories to find reputable organizations. Or, they may want to search memberships using another type of specific profile detail.

Also, we're human. Sometimes members just want to connect with other members (that's what this is about anyway, right?). Enable messaging to let members reach out to one another directly in the portal - without divulging any personal contact information.

Upgrade The Portal Experience with Directory Templates
Your members deserve a modern and seamless portal experience. Directories are included in that, which means they should match the unique styling of your website and brand.

Historically, this has been a difficult, time-consuming, and expensive process. That's why we designed a few directory templates for Rhythm customers to use out-of-the-box. These templates are accessible at no additional cost, making it easier for you and your team to achieve a custom, branded look (but without the price tag to match).
Rhythm provides 3 different templates you can use to customize your directories:
Use your own brand colors and fonts
Choose what fields are displayed, including custom fields
Change the visual organization of information
Include your imagery of choice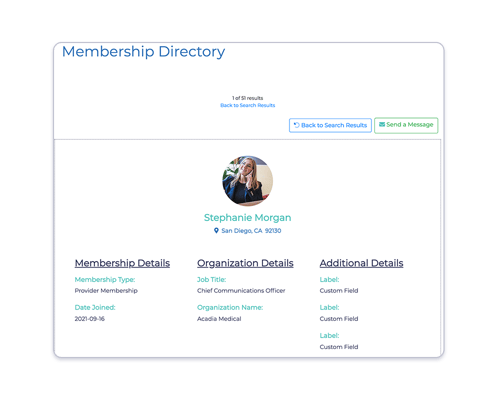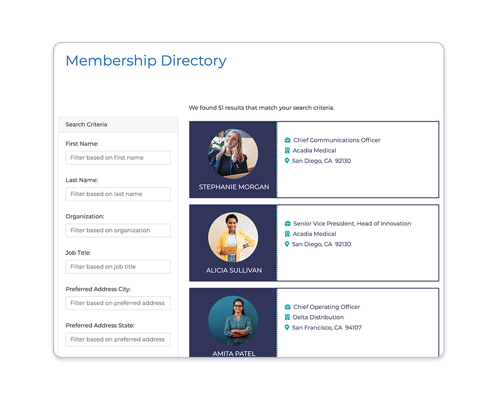 ---
We're better connected. See how you can start using directories today.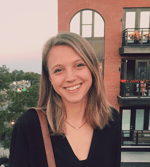 Anna is Rhythm's Marketing Manager. When she's not writing about our latest product releases, you can find her dreaming up her next adventure, riding her bike, or baking her famous espresso chocolate chip cookies.