Conferences are a major source of revenue - from registrations and sponsors to exhibitors, every piece is integral to a successful event. Exhibitors are corporate sponsors and other companies that purchase event booths to present their services to registrants in exchange for having access to the attendees. Exhibitors bring a lot of value to a conference, too. Many people register for an event to walk the floor and meet with these vendors.
Exhibit management allows for a seamless process of setting up booths and enabling booth purchases in the portal. Historically, it's been a manual process that's hard to keep track of, but with Rhythm, it's a streamlined and integrated experience for everyone. During the booth purchase process, vendors can view a virtual show floor to see booth location and availability at a glance. They can easily register their contacts for the event, eliminating an additional step for them and allowing you to keep track of booth contacts.
Exhibitor Management: Configure booth offerings, assign priority points, and more
Give vendors options they can get excited about in an organized, trackable way. Tailor your offering to exhibitors with a variety of customization options, including:
Configure booth offerings by size and type
Decide the number of included registrations based on booth size
Create rules for assigning priority points to repeat vendors
Craft an informative, helpful registration form
Upload a floor map to share with exhibitors
"When you can build a best-in-class experience for exhibitors, associations win," says Kelli Catts, Director of Marketing at Rhythm. "Our team has exhibited at industry events and all know that a seamless booth purchasing process while managing our registrations is a major piece of the process."
Configure Your Expo Hall
Upload a show floor map to give registrants a visual of the expo hall, so they can make an informed decision when purchasing their booth. Depending on the venue you're using, customize booth types and size offerings (such as Island, 10x10, 2020, etc.) and set the fees associated with these different booths. Every event is different based on parameters like space and layout, so you'll be able to create offerings that fit your venue and your exhibitor's needs.
With Rhythm's Form Builder, you can easily create a comprehensive registration form that ensures you have all the information needed for a successful event. Using the drag-and-drop function, intuitive design, and custom fields, you're sure to build a form that is both helpful and easy for registrants to complete.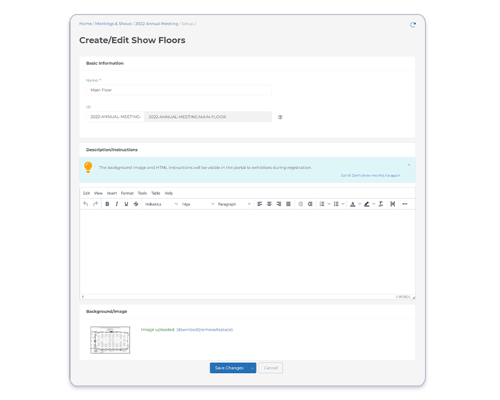 Offer Exhibitors an Intuitive Registration Experience
When registering in the portal, exhibitors will be able to select booth size and type and see the fees associated with each option. They'll also be able to see how many registrations are included with each booth size based on the parameters you've set in the console. When purchasing the booth, exhibitors will specify who is attending and what their contact role is, so you can easily keep track of exhibitor contacts.
After a vendor selects a booth, it will have a hold time associated with it. This is something you can change in the console to be as long or as short as you'd like, but it has two benefits: It ensures that two parties don't try to purchase the same booth, and it introduces an aspect of urgency so that vendors don't delay their purchase.
If you've configured the ability to purchase add-ons in the portal, vendors can select them during this process. It eliminates an additional step and exposes them to options that they may not have previously known about.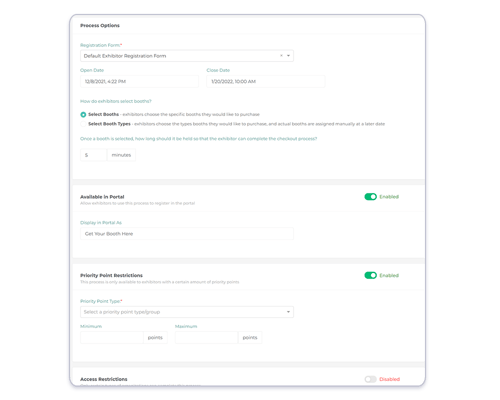 Prioritize Repeat Exhibitors with Points
Incentivize exhibitors to attend your events year after year with priority points. Priority points dictate who gets first pick on the best booths, and they are fully configurable in the portal. You can decide exactly how you want to assign them. Maybe it's consecutive years of attendance, setup time compliance, or a mixture of multiple criteria - any way you choose, you'll enjoy fine-tuned control.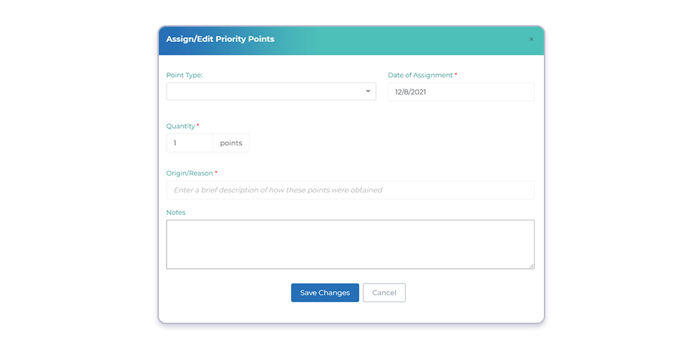 Coming soon
Virtual Show Floor

Design your show floor and offer an interactive way for exhibitors to purchase their booths

Installment Plans

Create a flexible way for Exhibitors to pay over time with predetermined payment plans
---
We're better connected. See how you can start using directories today.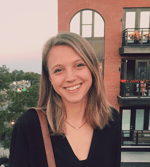 Anna is Rhythm's Marketing Manager. When she's not writing about our latest product releases, you can find her dreaming up her next adventure, riding her bike, or baking her famous espresso chocolate chip cookies.