Associations play a pivotal role in shaping the communities they serve. Through networking opportunities, innovative programs, impactful events, influential lobbying efforts, and cutting-edge research and education initiatives, associations empower individuals and organizations to create meaningful change. Your dedication and passion are driving forces, propelling positive transformations in every corner of the world.
Before the internet and the introduction of social media and digital communication, it was easier to prove the value of an association membership. Associations were often the only resource for professional networking and development in a given field. They were the central source for hobbyists or philanthropists to come together around a certain topic of interest.
Now, it's easier than ever to find information at your fingertips – without having to turn to an association as that dedicated source of subject matter experts or a network of like-minded individuals.
If you're an association executive, you're probably thinking about this exact topic and building strategic initiatives to be the dominant resource for your industry – especially when you're competing against other online forums or resources.
Your members are the heartbeat of your association, so visibility into member engagement is critical when analyzing the health of your organization and its programs. Yet, many organizations don't have the right tools in place to gain quantifiable insight.
This lack of data can have a major impact. According to the 2023 Membership Marketing Benchmark Report , 51% of association executives surveyed believe that a lack of engagement is the #1 reason members don't renew.

Without a clear understanding of what is causing low engagement among members, you won't be able to adapt and deliver an experience that members find truly valuable. Intuition and anecdotes are helpful, but they aren't the whole picture.

You need a flexible and intuitive way to accurately report on member engagement in the platform that hosts all of your member data - your AMS.


Introducing Rhythm's Member Engagement Scoring Tool – an intuitive and comprehensive way to quantify engagement, empowering associations to make informed decisions.
Actionable data that your organization can get excited about. Use Rhythm's Member Engagement Scoring Tool to:
Define the Engagement Scoring Model that fits your association
Change your scoring model as your association and its programs change
Compare current and past engagement scores for historical tracking and relevancy
Understand how current and prospective members engage with your association
Inform decision-making and strategic planning
Take action on individual and aggregate data


"We all know that a healthy membership base is an engaged membership base. Now, with Rhythm's Member Engagement Scoring, you can quantify and demonstrate that engagement to boards, donors, sponsors, exhibitors, and more. You can use these benchmarks to set internal goals for increasing engagement," says Jim Catts, Co-Founder and CTO at Rhythm. "As Peter Drucker famously said, 'You can't manage what you don't measure.' As impactful as member engagement is to an association, measuring and managing it is a fundamental need for our customers."
Assign Engagement Categories to Quickly See Engagement Levels

Rhythm's Engagement Categories allow you to quickly identify a constituent or organization's level of engagement.
You set the category names along with their scores – such as a score of 0-30 is At-Risk, 30-80 is Mildly Engaged, and 80-100 is a leader.
The big part? It's flexible. You're able to determine the Engagement Categories and criteria that fit your organization's Engagement Model.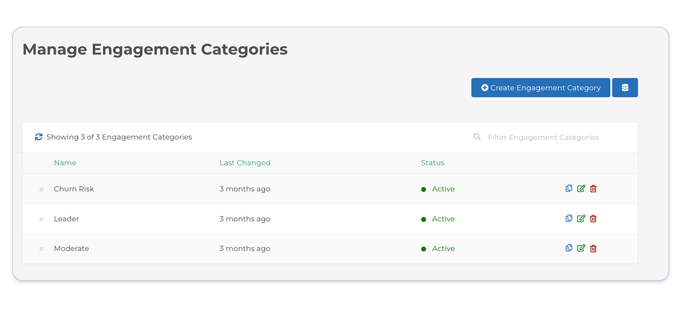 Choose Which Metrics Your Association Wants to Track
Metrics are the activities that make up your Member Engagement Scoring Model – think committee participation, length of membership years, amount of gifts, and more.
If you have individual memberships, organizational memberships, or a mix of both – we've got you covered. There are Engagement Metrics that take into account both individual and organizational engagement activities.
When we designed our Member Engagement Scoring Tool, we worked with our customers to determine the most common activities that associations would want to use when calculating their engagement score. We didn't stop there though – we know that every association is unique and has personalized programs and activities that should be considered – so in those cases, you have the ability to define custom metrics, too.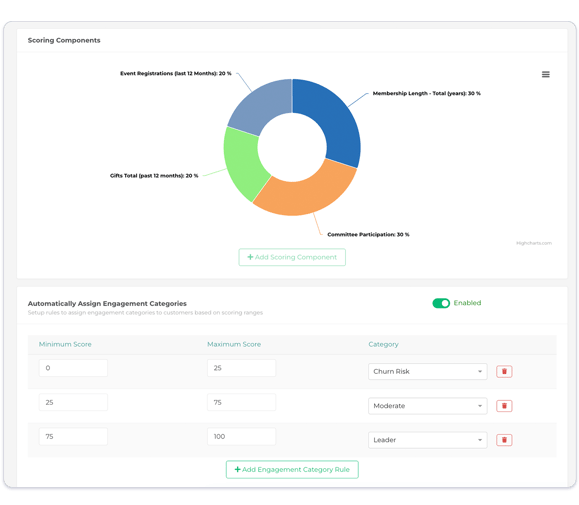 Define the Engagement Scoring Models that Fit Your Organization
At Rhythm, we know that member engagement means nothing if it isn't personalized to your association.
That's why you design the scoring model that makes sense for your association – and you can have different engagement scoring models for both your individual and organizational members.

To calculate an engagement score, we begin with inputs or, as we call them, the engagement metrics. That's the data that tells us how engaged someone is. Think committee participation, the amount of gifts someone has donated, or whether or not they've attended any events or webinars. You decide which metrics go into your scoring model based on which activities you want to track as part of your member engagement.
Then, you determine the value of each input – the weight that you assign to it. Someone attending your annual event might not carry the same weight as them sitting on a committee. By being able to choose the value of each input in your member engagement scoring model, you're able to appropriately track and weigh the activities that mean the most to your association – giving you a hyper-personalized Member Engagement Scoring Model that feels like a custom-fit to your association.
There's some math involved, but don't worry, we do all of the heavy calculations on the backend. All you have to do is choose the activities you want to track, weigh them appropriately, and define specifically what makes up that percentage of weight. For example: you decide to choose the length of membership as an activity and give it a weight of 30%. Then, you set that 0-2 years of membership length is 25 points of the 30%, 2-4 years is 50 points of the 30%, and 4-10 years is 100 points of the 30%. A member with 5 years of membership would get the whole 30% of the membership length portion of your scoring model.
The big thing? You choose and build the scoring model that makes sense for your association.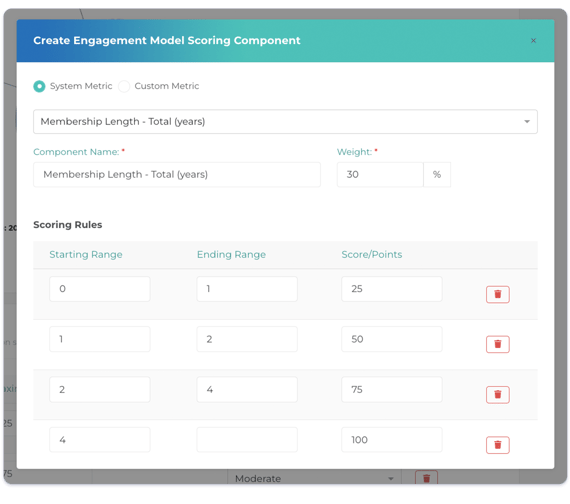 Visually Compelling Engagement Scores
On any member or organization record in Rhythm's console, you'll see their corresponding engagement score.
It's easy to see how engaged a specific member is at a glance, without being a data expert or having to pull any deep reports.
All in one place, you can see their overall engagement score and trending information, like if their engagement is up or down from the last year. Then, you can drill in and see more detailed information, like what activities made up their engagement score and their past five years of engagement history.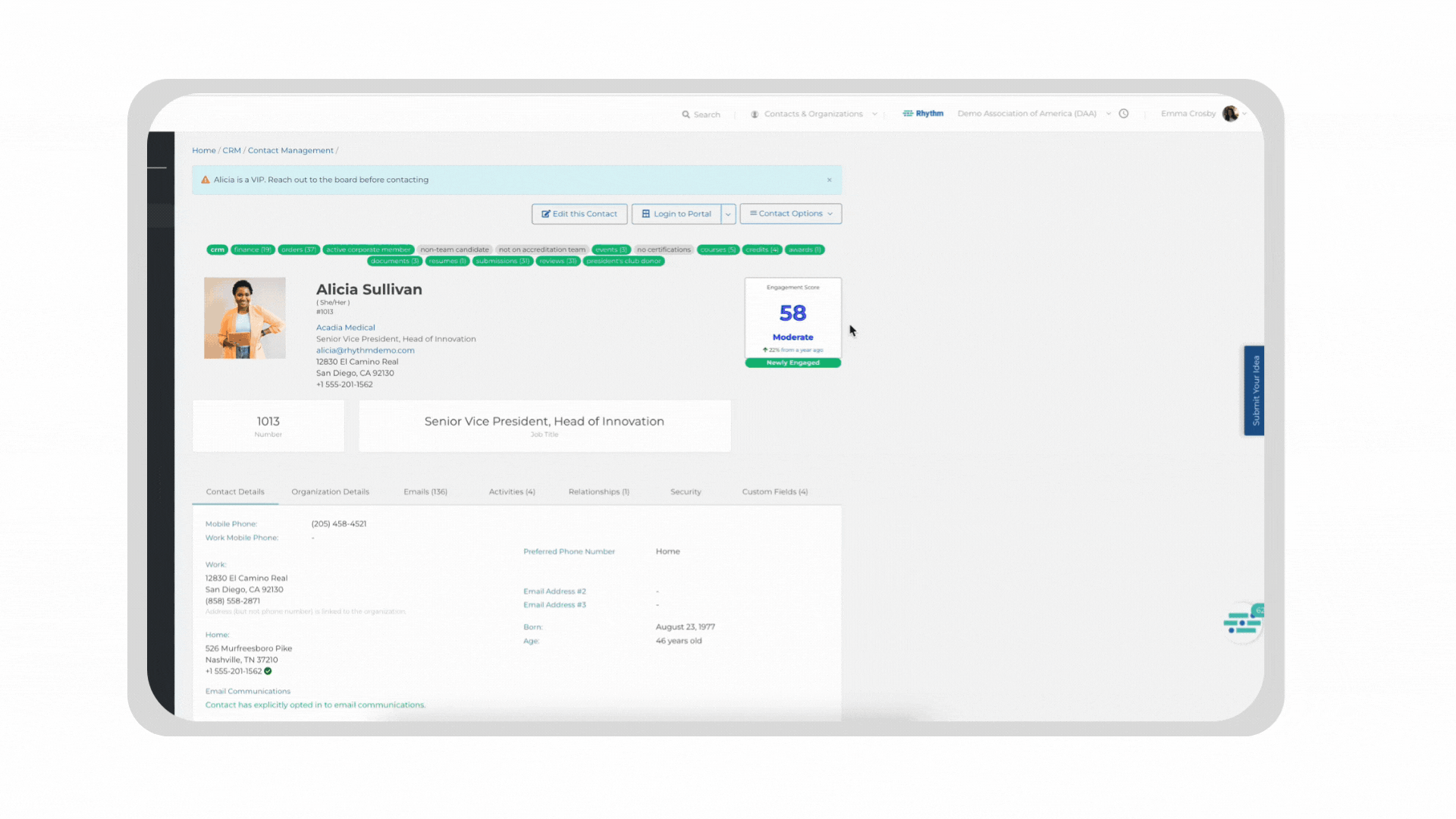 Take Action on Your Individual and Aggregate Engagement
Take the guesswork out of the question, "how engaged are our members?"
We added "Member Engagement Score" as an output field throughout Rhythm. Anywhere that you pull queries on members or organizations, you can see their engagement scores, too.
With the power of Rhythm's query engine, it's easy to pull reports on individual and aggregate engagement data.
You can pull a list of all member engagement scores across the board to identify which percentage of your constituents fall into each engagement category to get a high-level health check of your organization.
Or, you can go even deeper and pull a list of all upcoming event registrants that have an engagement score lower than 50 and make it a priority to connect with them in person and see how you could re-engage them.
With reporting on Member Engagement Scores, you're able to drive strategy, plan your yearly budget based on where members are interacting, decide what programs to offer, reach out to VIP members, personalize outreach, conduct member health checks, and so much more.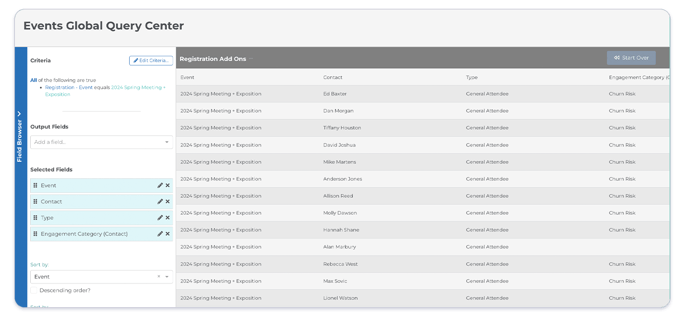 Historical Tracking on Member Engagement Scoring
Member engagement scores are updated nightly – so every morning when you log into Rhythm, you're seeing the Engagement Scores inclusive of all activity that happened the day before.
If you're discouraged by the fact that you're just now wanting to start tracking Member Engagement, don't worry! Rhythm takes into account all of your data from long before you decided to turn on the Member Engagement Scoring Tool. Once you set up your scoring model, you have the choice to automatically use that scoring model and past year's data to calculate your members' scores for the past 5 years.
In Rhythm, Engagement Scores always have to add up to 100 – for relevant tracking over time.
Things change, right? If you decide to change your scoring model as your programs or activities change, no problem. You can also choose to go back and re-calculate your past years' scores based on your new Engagement Scoring model, so the scores make sense relative to the way you're tracking engagement now.
Associations need an easy way to dive into the engagement details of a specific member and zoom out to see the engagement trends across their membership base. Rhythm's new Member Engagement Scoring Tool is designed to help.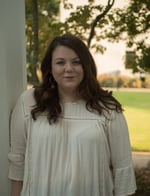 Emma is the Marketing Manager at Rhythm. When she's not thinking about all things content-related, you can find her traveling or shooting 35 mm film.