Associations work hard to offer value to their communities with a variety of membership packages, dozens of events, continuing education opportunities, and more.
The last thing you want to do is make the payment process difficult.
Rhythm already simplifies the payment process by offering a multitude of payment options, the ability for constituents to save their preferred payment methods, and even the option to make split payments on a transaction.
One of our most popular payment options gives constituents the ability to bill their organization for any transaction, creating an invoice to be paid by the organization itself. Most of the time, this is someone in the accounting department. Other times, it can be an assistant or someone else entirely. Typically, paying an invoice is the only interaction this individual would have with the association.
In the past, there were a lot of steps that person had to go through just to make a payment. They would have to create an account on the association's online portal, be granted the correct permissions to pay organizational invoices, navigate an entirely new site to find the appropriate page, and then make the payment.
Not exactly easy, was it?
That's why we created Publicly Payable Invoices - to make payments even easier. With Rhythm, organization staff members can make a payment on an invoice without a portal login, in one simple step.
Publicly Payable Invoices: Simplifying the Payment Process for Organizations


Straightforward Payment Form


After clicking on the link for the public payment, payers will be brought to a simple payment form – with all of the information they need, and nothing that they don't.
Like any portal page in Rhythm, you can easily customize the language or look and feel. Payers will be asked to give their full name, email address, and payment information. That's it!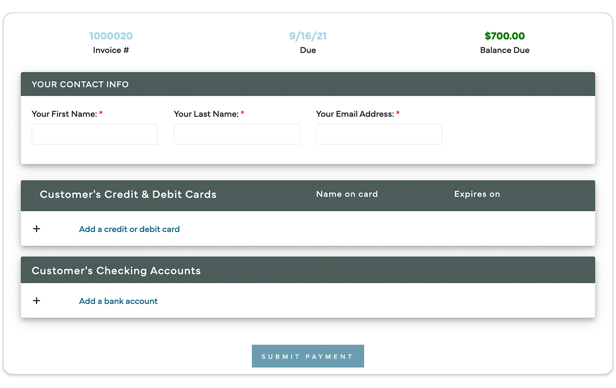 Payment Link Directly on the Invoice
Since every invoice has a unique publicly payable URL, we made it super simple. It's a merge field, so your staff doesn't have to update it every single time. If you have publicly payable invoices enabled, we went ahead and added the public payment link to the bottom of your invoices.
We know you might want to update the look and feel, so you're able to hyperlink it or make the URL visible, whichever you prefer. The publicly payable link can be used on both standard and specialty invoice templates.


Payment Link in the Automated Invoice Email
If you choose, you're also able to add the publicly payable invoice link to the automated invoice emails. Note – unlike the invoice, it's not automatically added to the invoice email. But, since it's a merge field, it's super easy to add to your invoice notification email template and you don't have to update it every single time.
You can also hyperlink it with text – we recommend adding some help text with instructions on how to forward the link to someone else to pay.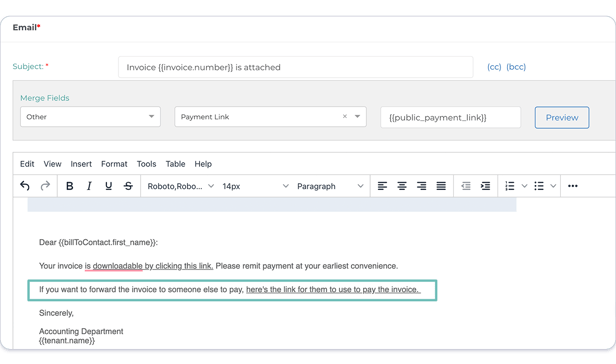 Determine Acceptable Payment Options
Every association collects payment differently – so you're able to choose how you want to collect payment on the publicly payable invoice form. There's the option to accept credit cards, electronic checks, or both – or disable the feature altogether if you don't want to collect payments through the publicly payable invoice form.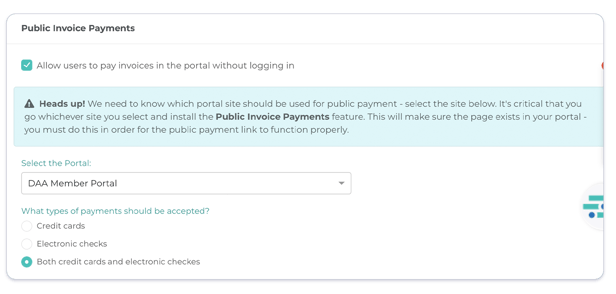 Keep Track of Payment History
We know how important it is to collect data on what invoices have been paid, and by who. With publicly payable invoices, Rhythm keeps track of who made the payment and when on the Invoice 360 page.
If someone does have a portal account but chooses to pay by using the publicly payable invoice link, the payment will be associated with their profile – no duplicate records!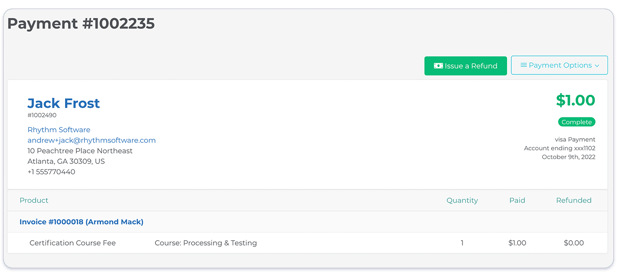 For Current Customers…
This feature is available for all of our current customers. Supporting documentation has been added to the Rhythm Knowledge base - and our Support team is on standby if you need a little help!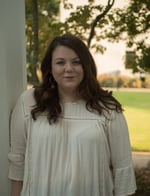 Emma is the Marketing Manager at Rhythm. When she's not thinking about all things content-related, you can find her traveling or shooting 35 mm film.