When your members want to purchase more from your association, you want it to be as easy as possible. You want them to be able to add multiple products into their shopping cart and only have to check out once.
We wanted to give you even more flexibility in purchasing; which is why we designed the new Universal Shopping Cart option.
A full registration process is powerful, but not always needed. And when your members are purchasing a lot, you may not want them to have to go through it multiple times. This can be particularly troublesome for corporate members. With Universal Shopping Cart, you're able to allow them to make these purchases in bulk through the portal – or you can do it for them in the console. The really cool part? Universal shopping cart allows you to add multiple different types of products and assign a different recipient to each - all in one transaction.
Other times, you just want to make it easier for your members + constituents to interact with your association by purchasing multiple items at once – like a ticket to your upcoming gala alongside an upcoming webinar or course. Make it easy for your members to purchase multiple things in one simple transaction.
An easy way for members + constituents to purchase multiple products, in one checkout process
Make it easier for your staff to create complex orders with multiple products and recipients
Designate which products you want to sell in the same online store
Make purchases on behalf of others in one shopping cart
Universal Shopping Cart in the Console
In the Rhythm console, your staff has the flexibility to add multiple items to one order, assigning the recipient for each as they go.
The Universal Shopping carts' interface makes it easy to drill down and find exactly what you need – all the way down to the specific membership or registration type and package.
Your member organizations may purchase the same thing each year – for example, membership for all of their staff members and a sponsorship. No problem! Now it's easy to clone the order from last year, change any recipients, and process it again.
For any products that have modifiers – such as size or color, the system will automatically prompt you to select those options, without having to click away or lose your progress.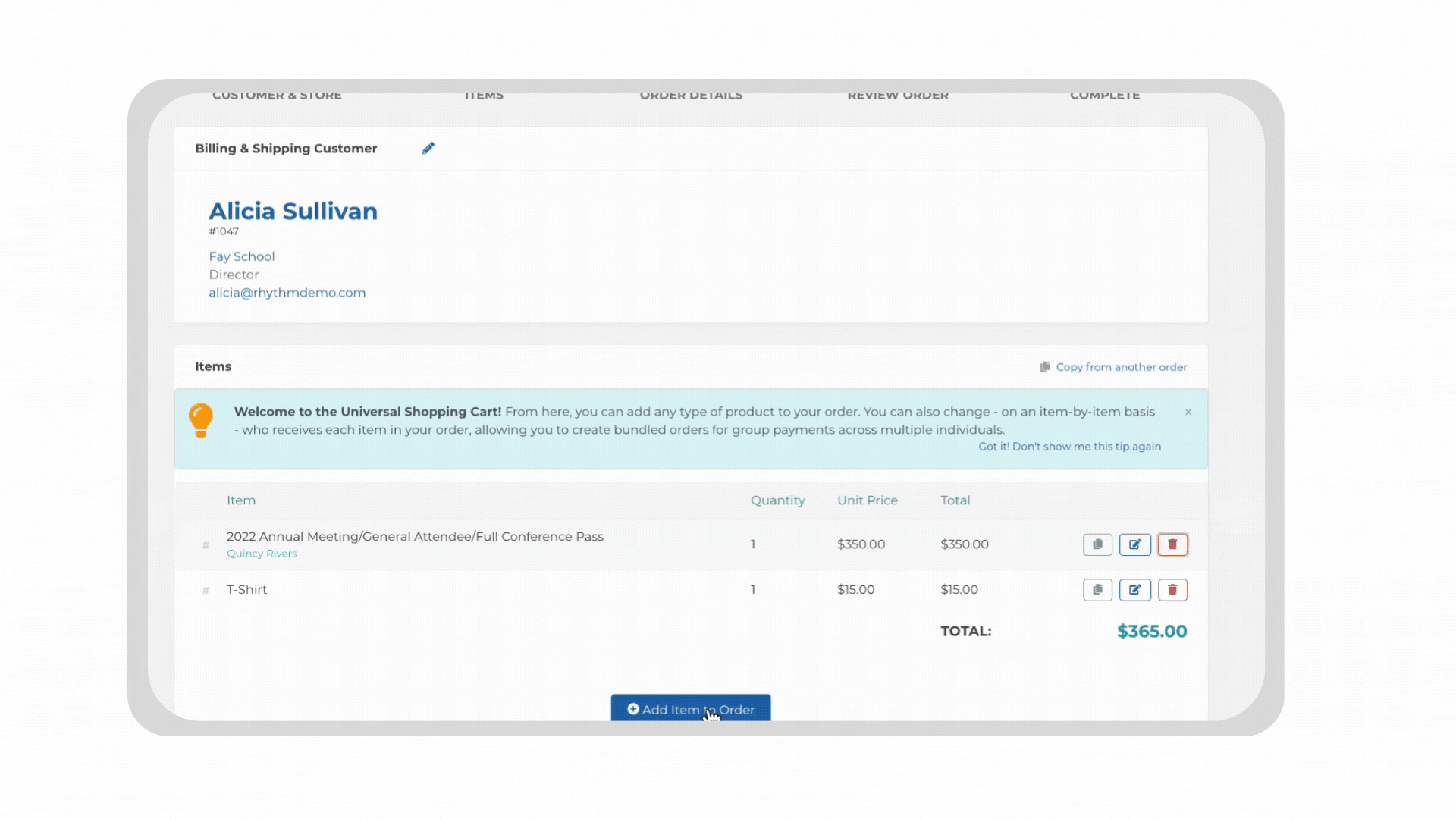 Flexible Universal Shopping Cart Set-Up
Like everything in Rhythm, it's easy to set up the Universal Shopping Cart exactly how you want it. You have full control over which products will be eligible to be put in the Universal Shopping Cart. This way you can exclude purchases that may require members to complete a process or submit forms such as membership join, renewal, or any other registrations.
You may want to choose exactly who is allowed to use a Universal Shopping Cart or enable it for only some membership types. No problem, it's easy to include or exclude down to the type or package.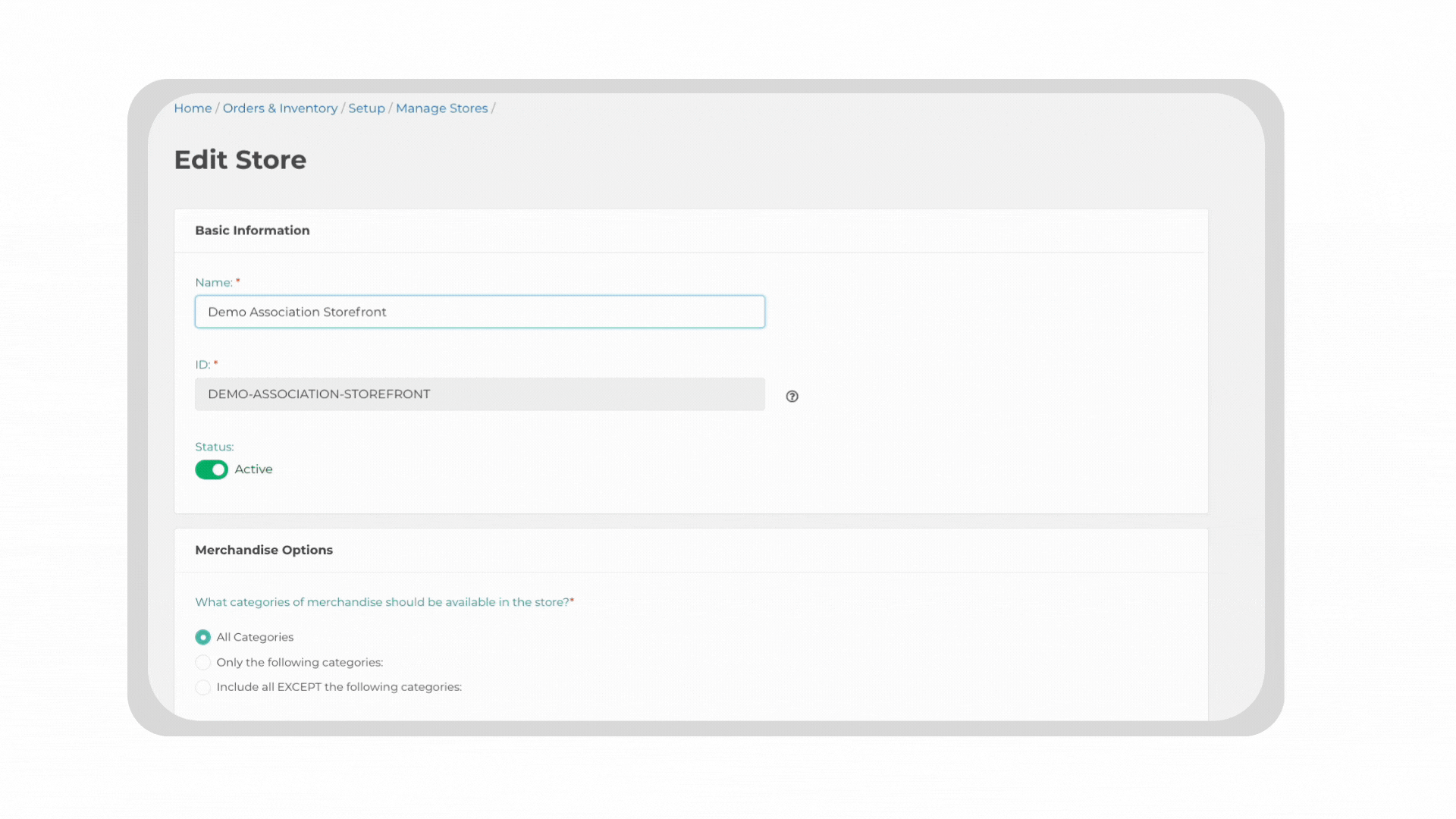 Allow members to purchase on behalf of others in the Universal Shopping Cart
It should be easy to purchase products from your association. Requiring corporate members to complete the same process multiple times for each employee can result in abandoned carts, decreased revenue, and frustrated members.
With Universal Shopping Cart, your members can purchase products on behalf of others in a single transaction. All contacts in the same organization are automatically eligible, and contacts in other organizations can be enabled if they approve.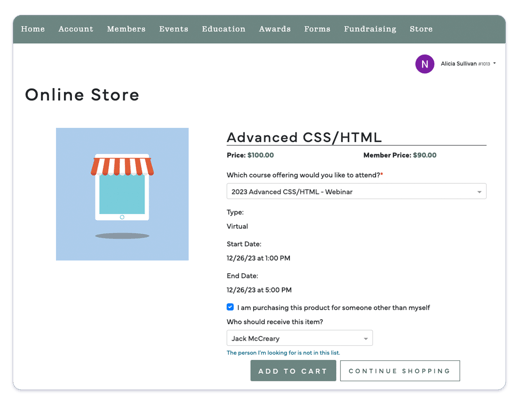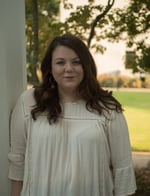 Emma is the Marketing Manager at Rhythm. When she's not thinking about all things content-related, you can find her traveling or shooting 35 mm film.