This past year, associations have had to adapt at record rates. You've had to think fast, adapt to new challenges, and come up with novel solutions for giving your members a great, valuable experience.
Everything had to change in 2020, and our treasured events were no exception. Almost overnight, meetings and conferences and courses and classes – and practically everything else – had to move online.
Even in a post-COVID world, it's likely that virtual webinars and courses are here to stay. While vaccines are becoming widely available and some gatherings are moving back to an in-person setting, the ease and accessibility of online events won't be forgotten.
These events will be a key part of continuing to engage with members in meaningful ways, and it's no secret that Zoom has become the tool of choice for virtual meetings across the globe.
Introducing the Rhythm + Zoom Integration: Level up your online events and build an improved member experience

Use the Zoom Integration to harness the power and potential of virtual events in the best way possible for your association.
Using this functionality, participants can sign up for a course or webinar in the Rhythm portal. They'll automatically be registered for the proper Zoom event(s) and sent an email with the confirmation details and meeting link.
Use the integration to:
Easily manage and export participant lists
Track course attendance
Analyze participant engagement throughout an event
Set up automatic event registration emails
Allow members to manage event settings in the portal
This past year has been hard on the association space, so we hope the Zoom Integration makes things a little bit easier.
"We've been using the Zoom integration for our virtual courses and it really makes the experience easier and more consistent for our learners! When someone signs up for a course in Rhythm, their registration is automatically added to the proper Zoom webinar. They receive an automated email with all the course details, and the roster is updated so it's easy to track attendance. This integration takes out the manual work, saving me time and effort." - Heather Maimone, Membership & Outreach Director at Rubber Division, ACS
The Rhythm + Zoom Integration can help lighten your staff's manual workload and simultaneously create a more consistent, delightful member experience.
Now that's a reason to smile. 😀
Seamless integration for Webinar Registration/Cancellation

When webinar integration is enabled on an event, contacts will be automatically registered for the Zoom webinar when they register for the event in Rhythm.
When an existing event registration is canceled in Rhythm, the registration will also be canceled in Zoom.
Offer a consistent experience by enabling members to manage their own event settings, register, and pay for events in the Rhythm portal.
Track attendance with confidence. Rhythm will seamlessly integrate with Zoom to be sure you have the most up-to-date information available.
Automatic confirmation emails

When someone registers for an event in Rhythm, they will automatically receive any Zoom confirmation emails you've enabled. We recommend setting this up in Zoom, so your members have all the info they need.
Save your staff time by enabling automatic confirmation emails, so they don't have to manually complete that task.
Track attendance throughout an entire event
See the exact time a participant joins or leaves the webinar/event.
Analyze how engaged participants are by tracking attendance throughout the webinar.
Use this information to create more valuable, compelling events for members.
The Rhythm + Zoom integration exists to make people's lives better. Your members can register and pay for events without ever calling in, and they'll immediately receive confirmation details without having to wait.
Your staff won't have to worry about sending individual confirmation emails, manually exporting participant lists, or updating registration statuses. They can focus on what's really important – making your virtual events compelling and helpful.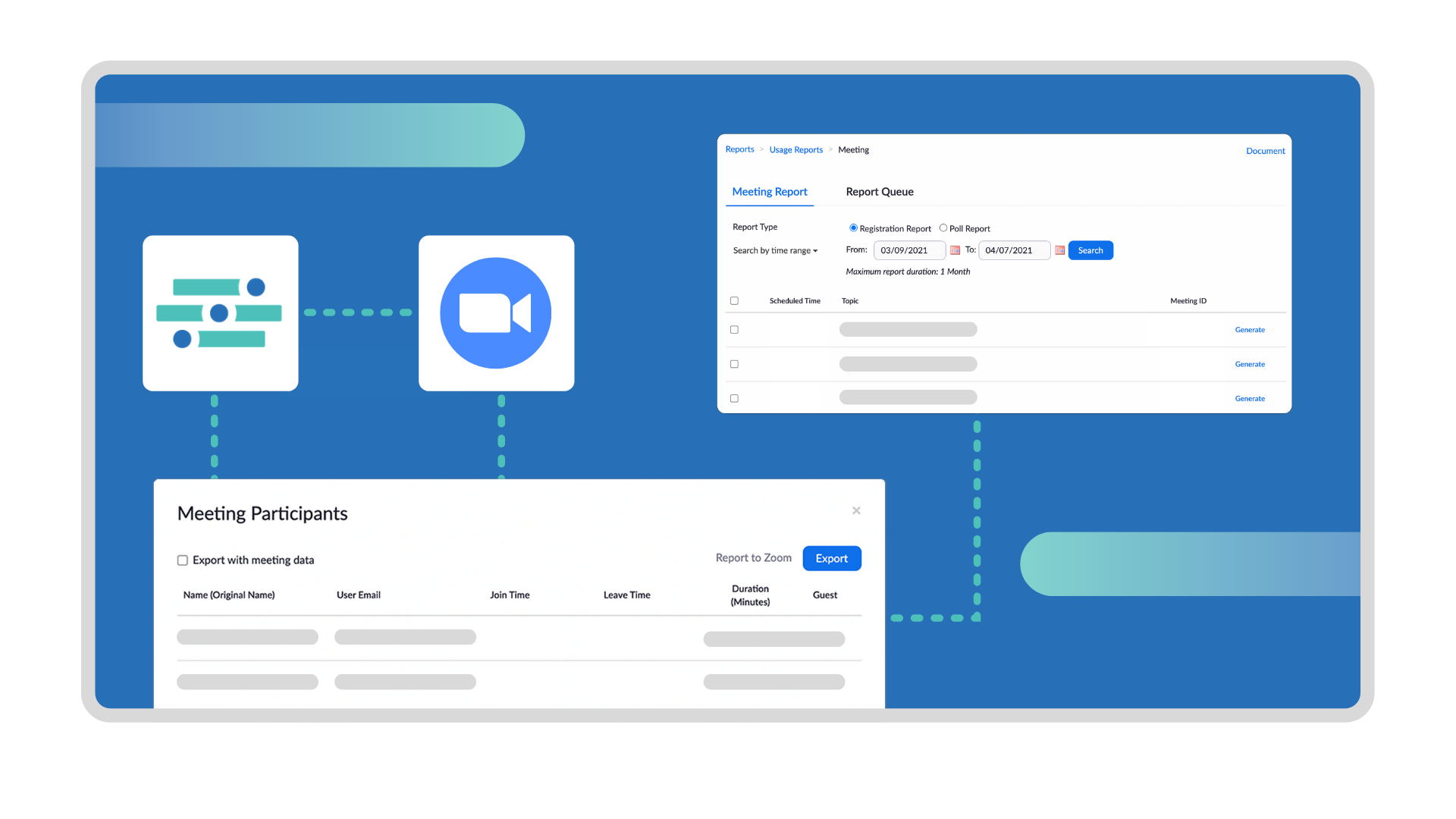 Ready to see how Rhythm can help you grow your association?