Is your association earning as much as it could from event sponsorships?
Your association might be shy about increasing its sponsorships, and I understand that you don't want to "commercialize" your members or annoy them with sponsor messages. But you might want to consider how sponsorships directly benefit your members.
Sponsorship dollars help you provide a great event without charging exorbitant registration fees. Sponsorships can also help fund vital programs long after the event is over. Sponsor participation in the event can add extra energy and excitement, and spending time with sponsors helps members develop the relationships that we all enjoy in the association world. Getting to know sponsors before needing their products is a great way for members to start a search for services.
Your sponsors benefit as well. Sponsorships help them build credibility by including targeted advertising that's linked to the association's brand. They help promote a sponsor's brand during the event. If they speak or sponsor a speaker, they have direct contact with an audience full of warm leads. And your attendee data or trade show interactions provide insights into their target market.
As you begin to think about the sponsorships at your next event, set a sponsorship goal. Determine how much you need to sell to make the event possible or to fund other initiatives. Then start to develop the specific sponsorship opportunities you can offer.
Don't be hesitant about talking to your best sponsors. They can provide insights into what they need, and you can get feedback about new programs.
Here are a few ideas to get you started:
Sponsorship Tiers
You might already sell gold, silver, and bronze package levels. Think about creating tiers for new sponsors – companies that haven't sponsored anything before. It helps them get a toe in the water at entry-level prices and increases the number of participating sponsors you have. If they have a good experience, you may develop a long-term sponsor at higher dollar levels in the future.
Speakers
Allow a sponsor to fund speakers & educational events such as:
Special keynote speakers

"Theater" presentations during a trade show

Demonstrations

"Ask Me Anything" sessions
Social Events
Allow sponsors for the events within the event like:
Opening + closing receptions
New member receptions
Student member receptions
Awards luncheons
Special interest group meetings
Gamification
Turn some of the event experiences into games like:
Jeopardy-like quick shows with industry experts
Scavenger hunts
30 ideas in 30-minute sessions
Giant puzzles or guessing games that involve everyone who's attending
Unique Experiences
Offer sponsorships for experiences that engage your attendees. Adding new features to a conference can help keep it fresh. Think about offering active challenges like:
Yoga sessions
Dance lessons
Fun run
Working out in the conference center gym
Cooking classes
Live music
Mindfulness
You could also offer ways to wind down during a busy day with:
Guided meditation or imagery
Deep breathing exercises
Napping areas
Work Zones
Conferences can be overwhelming, so a sponsor could provide:
Quiet work zones with comfortable furniture
Conversation areas (maybe for new members or credential holders)
Recharging stations
Pods for phone calls
Big Statements
Offer sponsors ways to get their brand front and center in big ways:
Big screens throughout the site to project short videos
Video walls
Huge balloons or big bunches of balloons printed with the sponsor's logo
Personalized Give-Aways
Branded photo booths
Caricature artist on site
Sponsored Infrastructure
Your members will need certain services during your event like:
Free mobile hot spots providing internet connection
Sponsored buses for large meetings, with branded giveaways on the bus
Sponsored special parking spaces
Sponsored valet parking
Donations
This idea requires a sponsor willing to match donations for a special cause. You can limit the dollar amount and challenge members to help do good in the world. The sponsor matches donations, doubling their effectiveness.
Trade Shows
Veteran exhibitors at association trade shows will come ready to meet (and hopefully impress) your members. They will have lots of swag to give away, methods to draw visitors into their booth, and a specific goal in mind. They want to identify as many leads as possible. Do whatever you can to help them. A well-run trade show helps your members and your exhibitors.
You can't do everything, but you can tailor what you offer to your sponsors. Whenever possible, tie in their products and services to the sponsorships you offer them. For example, it makes sense for a furniture maker to sponsor a comfy break room or for a fitness company to sponsor cooking demonstrations for healthy recipes.
Remind everyone who is introducing sessions and speakers to mention the sponsors. Be creative and authentic with those introductions.
Your members know the sponsors want their attention. Sponsors want to present their brand during the event. And the association can help fund vital programs by bringing members and sponsors together in new and profitable ways.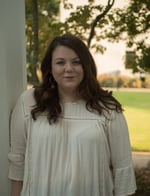 Emma is the Marketing Manager at Rhythm. When she's not thinking about all things content-related, you can find her traveling or shooting 35 mm film.