If your association operates a credentialing program or is planning to start one, you have an opportunity to increase your non-dues revenue. Of course, credentialing programs are not entirely based on providing revenue for the sponsoring body. Their goal is to ensure that the professionals in their industry are highly trained, ethically sound, and committed to protecting the public they serve. But even the most ethically motivated organization must provide enough revenue to maintain itself.
So as you think about possible revenue from your existing credentialing program or the one you hope to launch, you probably will begin with the basics – members of your profession take exams that measure their competencies to earn their credentials.
Your exam may be a written exam like the Certified Association Executive exam administered by the American Society of Association Executives. Or your exam may include practical components that require physical demonstrations like exams in some medical fields. You also may require a certain number of years in the profession or a basic education level before someone can sit for the exam. Whatever the requirements, those attempting to pass the exam must demonstrate knowledge and expertise, and you collect a fee.
Fees from applicants, however, are only the beginning of the revenue your association can derive from a credentialing program. As the credentialing body, you are not the only player in the process. Educational institutions, other education providers, and employers are also competing in this area. Establishing strong partnerships with them can help you provide value to them and allow you to charge for your services.
Your ability to provide talented, well-trained professionals to your industry is indispensable to your reputation and your brand. The credentials you bestow certify to everyone that your certificants perform in the industry at a high level. As your brand grows, others involved with your industry benefit from a close relationship with your program.
Here is how establishing positive relationships with credentialing partners can increase your bottom line:
Colleges, Universities & Technical Schools
Most professional credentialing programs require applicants to master a formal course of study. An accredited college or university may provide it, or it may come from a technical college or school. No matter what the requirements are, however, the educational institutions are competing for students each year.
You may be asking yourself, what does that have to do with our program? Well, you're competing for students, also. When more students choose your profession, more students are eligible for the credentials you offer. It is in your best interests to help the institutions that bestow the foundational degrees or certificates on your future applicants.
Consider a college or university program from the student's perspective. Most people want to be educated by the best in their field, and they often look to the organizations that certify professionals for that recognition. As students research various programs and decide where to apply, they will look to your organization for guidance.
You probably host a website. You know that students looking for advanced education are visiting your site. The institutions offering advanced education can reach one of their target audiences there. It's great for the college or university, and it's great for your program.
You can sell similar advertising opportunities in all your printed materials. If you host a conference or trade show, sell advertising in your program books or on conference apps.
Think like your potential advertisers and get creative about what you have to offer them.
As you develop the advertising program, you can establish guidelines that help avoid any suggestion of favoritism. You'll certainly want to open the offer to all the educational institutions sending students to your program. You can tailor your advertising offers to support your mission statement and ethical guidelines.
Education Providers
In a professional certification like the CAE designation, all applicants must initially pass an exam that covers several domains of study, even if they have earned an association management degree in college. Most association executives who sit for the CAE exam study for months beforehand. State societies host study groups and make study materials available to applicants, and they charge for the assistance.
Once CAEs earn their initial credentials, they will periodically need to renew them by completing a certain amount of continuing education credits. ASAE, for example, requires 40 CEUs every three years to renew a CAE designation. The fees associated with renewals are another revenue stream for the credentialing organization.
Application and renewal fees, however, aren't the only revenue streams available to you. CEU providers, particularly those who operate for profit, find benefits in becoming recognized providers. They might be identified as "sponsors" or "certified providers." Whatever they're called, they are identified by the credentialing organization as premium education providers, and they pay a fee for the recognition.
The process of becoming a recognized education provider varies depending on the industry. Some certifying organizations simply ask for an application and a registration fee. Others require a history of participation with the organization, successfully presenting a certain number of approved courses and a fee. The size of the fee also depends on the industry. You can increase your revenue and help identify valuable educational programs by recognizing excellent education providers.
Prospective Employers
Finally, prospective employers are also interested in the professionals you credential. Those professionals are the best prospective employees available. You've already vetted and tested them, so employers can hire with confidence.
If you're dealing with large employers, you might consider helping the employers get their new employees credentialed. Of course, you would strive to keep your process neutral, but you might offer fee reductions for large numbers of employees. Some companies make earning credentials a requirement for new hires.
You might also offer advertising online and in print to prospective employers. They are competing for the most talented employees, and ads in materials sponsored by your organization could be very attractive to them.
Conclusion
Increasing revenue for your program isn't just about the money. Of course, it's a good idea to have enough to cover your expenses but you might consider what you could accomplish with more revenue.
You could start initiatives to help the industry – a robust jobs board, scholarships, or research. You could pay for technology that helps your applicants, education providers, and employers.
You probably have a list of projects that you've shelved because of a lack of funds. And you might be able to weather disruptions like the pandemic with greater reserves.
New revenue streams are available to you without jeopardizing your core mission. As you establish new partnerships with educational institutions, education providers, and employers, you can help strengthen both your program and the industry itself.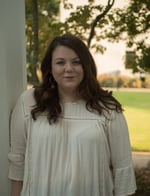 Emma is the Marketing Manager at Rhythm. When she's not thinking about all things content-related, you can find her traveling or shooting 35 mm film.