We've all heard the saying "you can't manage what you don't know." But what does that really mean? As your association grows, it becomes harder to know each member individually and what drives them. By using data, you're able to get more accurate results of who your members are, what they want, and how you can fill that need. Plus, you're making sure that every decision you make is informed by data, increasing the likelihood that your initiatives will be successful. Associations are spread thin, usually with a small group of people responsible for making a big impact. You don't need a crystal ball to make decisions - all you need is your data.
How to Tap Into Your Data and Why You Should
When you're able to measure your results and act accordingly, you're ensuring that the decisions you make are backed up with data to support them. It's easy to act on gut feelings or even what you've done in the past, but sometimes we're not always right and things change constantly.
Start by outlining your organizational objectives. Maybe you're hoping to increase the number of members in your association, increase your event revenue by 10%, or provide more resources to your members.
Next, find out where your association keeps the data relevant to your goals. Look at the data that lives in your association management software, any marketing or website platform you use, integration tools, the feedback you've gotten from members, or even your online community boards. It's important to have a full picture of all of your data, but don't get overwhelmed by the parts of the data that aren't relevant to the current organizational objective you're trying to achieve.
Look at the data to determine patterns or trends. The data should inform your next steps. Listen to what your members are saying and what they're engaging with. Maybe the resources you create around a certain topic get the most traction. If you're trying to increase event attendance, consider where most of your members live. If there's a big percentage of members in one region, consider hosting your event there to get more attendees. Find out where most of your members are interacting with your community the most. If it's on social media, make sure to promote it there. If it's in your community board, make boards around that topic.
Plan your strategy according to the data. Remember, data-driven associations use the data they collect to inform their decisions and act accordingly. Continue to measure the impact and repeat or pivot based on results.
When you become a data-driven association, you're able to deliver meaningful engagement opportunities for members, fuel growth for your association, and be good stewards of the board.
Data Is For Everyone
You don't have to be a data scientist to understand data and make informed decisions for your association. You don't even have to have much experience with data. Anyone and everyone at your organization should be using the data you already have to inform their business function.
It's all about making the data you already have available to the rest of your team in a relatable way. From using search capabilities to explore your data to queries, all the way to reports and analytics – there are many levels of data accessibility. Don't let the super-advanced ways of analyzing your data overwhelm you or stop you from using the data at all. No matter your business function or level of expertise, anyone, and everyone should make their decisions based on data.
Invest in the Right Tools
With the right tools, data management becomes easier. Your association management software serves as your central database - the hub for all of your association's data. Through a powerful API, you can integrate with any other platform your organization uses in order to create an ecosystem rich with data, giving you a deeper look into your association.
Consider if you can trust the current reporting tools in your AMS. Are they robust enough? Do they give you accurate and dependable results? Is it a complete picture of your association and the tools you use? You can't make data-driven decisions if the data you're using is unreliable.
Comprehensive and intuitive reporting tools should include out-of-the-box reports that are built with association needs in mind. They're the typical reports that most people need to make data analysis easy and predictable. That way, anyone in your association can feel confident using the reporting tools since they're built to know your association and the type of data that powers your decisions. Custom reports should also be an option for your more tech-savvy staff so they can pull whatever information they need from the database.
Why be a data-driven association? Simply put, when you're able to make organizational decisions and build campaigns around data, you're decreasing your risk of error and ensuring that everything you do is based on what your members want – because you have the data to prove it.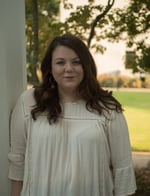 Emma is the Content Marketing Coordinator at Rhythm. When she's not thinking about all things content-related, you can find her traveling or shooting 35 mm film.