Customer success is more than just customer support. With an AMS provider that truly values each and every customer, it becomes more than just a transactional relationship – it's a partnership. When your vendor welcomes customers into their processes, you're able to share wins together. Whether it's a successful event or an exciting new course offering you were able to offer your members, your AMS provider should be just as excited about the win as you are. With an AMS provider that puts customer success at the forefront of everything they do, you get more value out of your partnership.
Open Communication is Key
Picture this: You reach out to your AMS provider and you're met with silence. The relationship feels one-sided and it takes weeks for them to get back to you on an issue. Or worse, they get back to you and don't really understand your association enough to know your needs.
With regular check-ins and quarterly business reviews, your partner knows what's going on in your association, and how they can help. Then, they're able to access any need early on and you can both be on the same page with what's coming up for your association.
Any good partnership isn't just one-sided. With a consultative approach to customer success, your association is consulted when it comes to decisions regarding the AMS – product or otherwise. A great partner understands that you bring value to the discussion and that no one has better feedback than you – the one who uses the product day in and day out.
With the right AMS, company updates will become normal. There's transparency into what is happening within the company and how it might affect your association. With access to executive stakeholders, your voice will be heard and you become more than just a number. In exchange, the leadership is transparent with you, sharing product announcements or company news.
Open communication requires your AMS provider to truly know and understand your association – what your goals are, what excites you, or what you need help with. When your AMS provider has open lines of communication, you can guarantee that they are willing to put in the work to build a deep relationship with your association.
Education and Support Build Success
Self-sufficiency inside your AMS is key. When your AMS has a strong education base for their product, you're able to have more valuable time in your day. You can learn the product on your own time instead of waiting to be trained on a new feature or for support to answer a question.
How does an AMS achieve this? By having several ways to learn the product both during onboarding and after. Not everyone has the same learning style, so a combination of videos, written content, or walk-through guides are key to learning the system – your way. With on-demand content, you're able to go back any time for a refresher or for training when a feature is new to you.
So, your AMS releases a shiny new feature, but you have no idea how to use it. With proper documentation, you're able to go somewhere and learn to do something on your own. No more having to submit a support ticket for everything. That way, you can differentiate between bugs and issues, questions, and ideas. When you do have to submit a support ticket, it should be easy to communicate how important the ticket is, so highly urgent tickets are addressed quickly.
With an easy way to submit requests to your vendor, an innovation engine is developed. Products are built with a customer-first mindset, your feedback is taken into account and incorporated into the product.
When your AMS partner truly understands the needs of your association, the product roadmap and everything they do becomes centered around those needs. Putting customers first shouldn't just be a tagline – it should be built into everything the AMS does.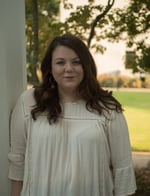 Emma is the Marketing Manager at Rhythm. When she's not thinking about all things content-related, you can find her traveling or shooting 35 mm film.