Early in the summer of 2020, Rhythm launched its first iteration of an integration with Higher Logic. It was a seamless connection for customers who were already using Higher Logic to host their online community, and it included a lot of great benefits.

From the spring of this year all the way through June, we've received a lot of helpful feedback from customers about additional features and functionality they'd like to see. While the initial integration was working great, customers had new ideas for a deeper integration that would make their lives even better.

So, you know the drill. We talked to those people, asked questions, and developed a deep understanding of the problems we could solve with an updated integration. Then, we set about building it. Just weeks after receiving the last piece of feedback, we've added key new features to offer an even more extensive Higher Logic Communities integration to customers.
Meet a More Robust Integration with Higher Logic
Enjoy an updated integration with Higher Logic that includes some minor performance improvements and bug fixes, as well as the ability to:
Create event-specific communities for attendees
Sync organizational info for a searchable directory
Configure custom security groups based on organization type
Boost membership value for individuals and organizations
Event-Specific Communities
In the past, there was no easy way to turn a group of event registrants in Rhythm into a community group in Higher Logic Communities. With this new update, you can easily create new communities for event attendees, where registrants are automatically invited to join.
This creates a space for attendees to ask questions about sessions and connect with one another through sharing their own experiences. We know that one of the huge benefits of being a member of an association is access to a community, so we've made it easy for members to continue the conversation after meetings and shows.
Sync Organization Demographics
Now, you can pick certain organization demographics or information fields they want to sync from Rhythm to Higher Logic Communities. This allows associations to set up a searchable online directory of their corporate partners for individual members, using whatever fields you determine.

Online directories are a huge benefit to both your individual and organizational members. The new and improved Higher Logic Communities integration makes it easier than ever to offer.
Organization Types and Security Groups
Security groups give your association more fine-tuned control over which types of content or groups your members are able to access, creating a better experience for everyone.
Now, associations can designate different organization types and create security groups based on those types. This way, your association can allow corporate members to talk to one another in specific groups, without granting full access to all of your individual members.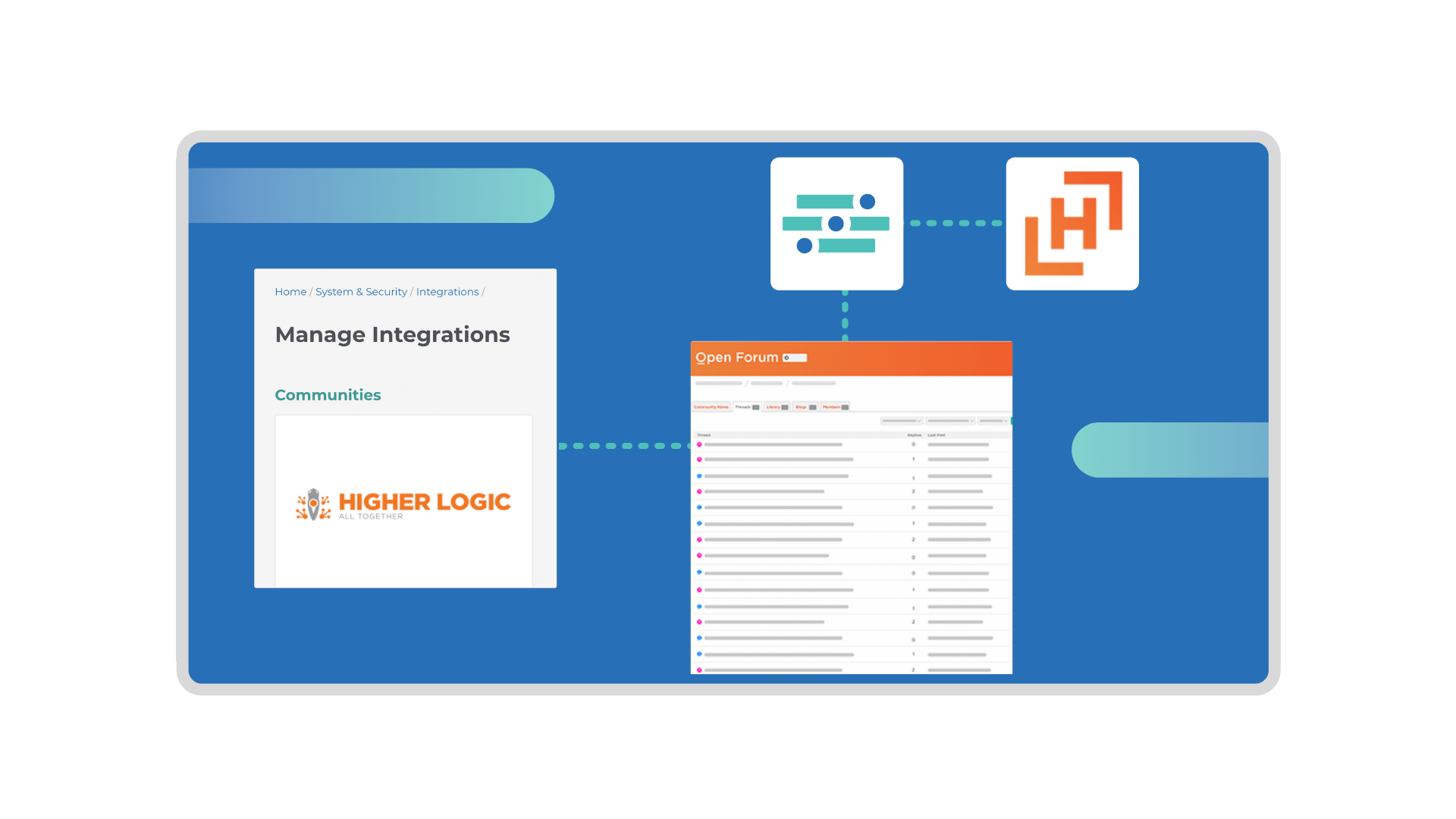 To learn more about the options Rhythm customers have with our Higher Logic Communities integration, read the first product update.
---
Ready to level up your membership benefits?