Your members are looking for a personalized experience with your association – they want to feel like more than just a chair in a conference room or a number behind a message board.
But – personalization efforts can create more work for your organization and staff. Whether it's through conducting surveys, calling members, or even networking at events – it's hard to remember all of the demographics you learn about members, especially as your membership grows.
Introducing the Rhythm + Higher Logic Thrive Marketing Integration, a powerful way to engage and recruit members using queries to build email marketing campaigns.
When we set out to build the Rhythm queries function, we knew we had some challenges to correct. In the past, we've heard associations talk about how queries were confusing, hard to set up, or even impossible to create without deep knowledge of SQL.
No longer – now, anyone on your team can take advantage of the powerful and simple-to-use query feature within Rhythm. The best part? You can now integrate with Higher Logic Thrive Marketing to send over your queries to use in email campaigns.
Here's the lowdown on how the Rhythm + Higher Logic Thrive Marketing can increase your engagement
Provide your staff with the tools to create engaging and meaningful email marketing campaigns

Harness the power of the Rhythm Query Engine to build email lists

Gain clear visibility into the results of your campaigns directly in Rhythm
Personalized outreach
With the power of the Rhythm query function, you can create lists based on your members' data and choose which lists get sent over to Higher Logic Thrive Marketing – enabling you to create email marketing campaigns to engage who you want to, when you need to.
From members who have lapsed membership or need to renew soon, to committee involvement, or new members who need resources you get to choose who you want to reach out to and build the list of members quickly and easily.
Don't want someone to be targeted? It's easy to create suppression lists so you're never reaching out to a member who doesn't need to be contacted. Personalize your emails with contact information saved inside of Rhythm, so each outreach feels one-on-one.
And, it's simple to keep your outreach lists up-to-date. When someone unsubscribes from emails in Higher Logic Thrive Marketing, that information is updated in Rhythm.
Clear visibility and results
As you continue to update and build out your marketing outreach, you want to use results and lessons learned from past campaigns – right?
The information from Higher Logic Thrive Marketing gets sent back to Rhythm, giving you access to data about their e-mailings directly in your AMS. Simply navigate to any contact record to see the emails that the contact has received, as well as interaction details such as open-rate, bounce backs, and click-throughs. Now, you can see how each contact interacts with an email and tailor your next campaigns accordingly.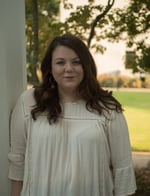 Emma is the Marketing Manager at Rhythm. When she's not thinking about all things content-related, you can find her traveling or shooting 35 mm film.