If your association needs a new idea for engaging your younger members and allowing your veteran members to share their expertise, think about creating or expanding a mentoring program. Mentoring gives younger members, who these days are often working from home, a chance to connect with colleagues, helping them engage on both personal and professional levels. It also gives the mentor a chance to share the wealth of knowledge they've acquired during their careers.
Most mentoring program managers start by advertising the program, providing a process to learn more about participants, and then matching mentors with mentees. Software is available to make the process easier to administer, but the key is matching personalities that mesh. Mentoring conversations should be comfortable for both sides, and it helps if the mentor and mentee can establish an easy relationship.
Training is Key
It would be nice if you could simply put two professionals together and ensure wonderful outcomes, but that's a little optimistic. The good news is that the skills necessary to be a great mentor are teachable. Mentor training, coupled with suggested discussion topics, can help these new relationships get off to a good start. Offering training may also help hesitant mentors agree to participate.
Likewise, mentees may not know what to expect from a mentor relationship. They may want instant results that aren't realistic, such as promotions or new job prospects. Training for mentees will help them learn what a successful mentor relationship can offer and what it can't. And setting younger members up for a successful relationship is important.
Types of Mentor Programs
You might consider several types of mentor programs. The type a mentee needs may change during their career, and you can offer programs with different objectives. Here are three suggestions:
Professional + career development


This is probably the most common type of professional mentor relationship. During these conversations, the mentee can express their long-term goals and aspirations and the mentor can suggest effective strategies. Discussion topics can include:


Pros + cons of acquiring advanced degrees
Value of earning certifications or other credentials
Designing a roadmap for career advancement
Possible roadblocks + how to overcome them
Alternative career paths

Specific topics


In this type of mentor relationship, the mentee often wants to acquire mastery of a certain topic or skill. If the mentor has skills in that area or specific expertise in a general business area, they can discuss the skills necessary to become proficient. For example, a mentor might coach a new manager who's building their first team or conducting their first performance reviews. Mentors can help mentees who are facing conflict in their jobs. Having an outside viewpoint is often helpful to diffuse situations and develop positive responses.

Flash sessions


Sometimes, a younger association exec needs help developing a response to a challenging situation. Having a mentor as a resource is helpful when the situation is critical, and time is short.

The pandemic is a perfect example. Everyone was designing their responses on the fly, and those who had good relationships with friends in the industry could call on colleagues for advice. Those who didn't have great association industry contacts had to develop them in a hurry or make decisions with limited experience. Flash mentorships can help make the process easier. By drawing on existing mentoring relationships, mentees have experts available to help them respond to challenging situations.
Reverse Mentors
Finally, you might consider a reverse mentor program where younger members are the mentors. You can probably think of several areas where information from younger members could be very helpful to your veteran members. You can arrange mentor relationships around certain topic areas to allow deeper discussions. Drawing on younger members as the experts allows them to demonstrate their knowledge and provide valuable information to their mentees. It's a hallmark of lifelong learning.
The goal of mentor programs is to create new relationships and share information among colleagues. These programs can also provide a new connection to your association for members and a reason for non-members to join.
As your mentor program grows, you can create events to celebrate those relationships. Hold a reception or luncheon for mentor program participants during your next annual conference or trade show. If most of the mentor/mentee interactions are virtual, a reception or lunch is the perfect place for them to meet in person – maybe for the first time.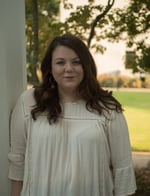 Emma is the Marketing Manager at Rhythm. When she's not thinking about all things content-related, you can find her traveling or shooting 35 mm film.