At Rhythm, we've done a good deal of training. Through customer feedback and continuous improvement, we've developed a comprehensive online training program, built to get your association up to speed faster. But, what does that mean?
During implementation, we deliver our software one app at a time, instead of all at once. Through experience, we've found that training works best immediately prior to delivery when you see your data and configuration in Rhythm for the first time. Then, you can ask well-informed, detailed questions about each app as you receive it. Here's how Rhythm's training will prepare and empower your staff with fewer roadblocks.
On-Demand Training Allows You to Learn on Your Schedule
Gone are the days of lengthy, in-person or online classroom training. Let's be real, classroom training is taxing and often boring. It's easy to zone out during an eight-hour session and potentially miss important pieces of information. What if a staff member isn't able to make it to the classroom training? What happens then?
Not only does this approach take valuable time away from your team, but it's also difficult to schedule (trying to get both your team and your provider's team together for several consecutive days is hard – especially at the end of an implementation). With on-demand training, you can train at the time that works best for you and your staff. If you don't have time during your busy day to learn how to use your AMS, that's no problem.
We developed the Rhythm Academy to be available at all times of the day – or night. The best part? It's ever-evolving and always accessible. If you hire a new staff after implementation is over, you can assign training courses to get them up and running. When new features are introduced, training is updated, too.
Since Rhythm Academy is on-demand, you can pause, fast forward, or rewind, ensuring you never miss an important detail. When it's time to set up your annual conference or send membership renewal reminders, you can rewatch those portions of the training. Or, if you just need a refresher, you can revisit courses as needed.
Training the Right People the Right Way
Rhythm Academy courses are organized by competency and can be assigned by learning path, ensuring the right people are learning the functions critical to their department and role. Your association's project lead will have administrative access to Rhythm Academy, allowing them to assign the appropriate training modules to each staff member – and monitor their progress.
At Rhythm, we are big advocates of learning by doing. By providing you with a training tenant, you can interact with the software as you progress. Go into the system, see how it works, and complete the same tasks you'll complete once you're live. It's your playground. Jump in, get your hands dirty, and explore the features. Take it for a test drive; no need to worry about unintended consequences since it's a training tenant.
Once your actual tenant is ready, the learning continues. By introducing each app in sequence, we build your understanding incrementally and logically. For example, a solid grasp of CRM concepts, like contacts and organizations, is required before we dive into membership or events. Detailed checklists to walk you through each app step-by-step to validate your data, configuration, and member portal experience. As Rhythm Academy graduates, your staff will be well prepared for go-live day.
Unlock a Great Experience for Staff and Members
As Members get accustomed to your new AMS, your well-trained staff, now experts in your new system, can guide them. They will confidently answer their questions and increase user acceptance and member engagement by providing them with a seamless transition.

An AMS implementation is a big undertaking with a lot of moving parts. Ensuring that you're fully trained on each aspect of the system before launch is absolutely key. With on-demand training through the Rhythm Academy and a streamlined, effective training process, your association can get back to what matters – your members.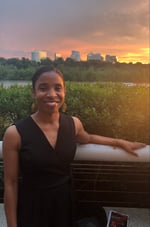 As Director of Professional Services, Heather's goal is to launch happy customers who feel confident their new AMS will empower their staff and delight their members. She also enjoys spending time outdoors, the performing arts, and impromptu sing-alongs.