For many associations, the fear of implementing association management software is what keeps them from leaving an AMS that is no longer serving them. While it's true that an implementation has many moving parts and its success is critical to the function of your organization, there are things you can proactively do to make it seamless.
Approach the Project with Organization
It's crucial to pick an AMS provider that can manage the implementation project well. Before even beginning implementation, a timeline should be set in place by your vendor with dates for deliverables and milestones.
The project manager on the vendor side will serve as an extension of your team throughout the project. They will gain a deep understanding of your association during implementation and serve to set up the new system to your needs. With your best interests in mind, they should be able to manage project deadlines and milestones with precision and transparency.
On your side of the house, appoint a member of your team as the internal project manager. Their job is to communicate between the two groups – your team and your chosen AMS provider. They will also act as the point of contact for the project, or the go-to person for the vendor to ask questions or meet with.
Your vendor should use a project management tool to keep track of all the project details and dates. Its purpose is to organize all of the details and make implementation easier, so the tool should be easy for everyone to use.
For implementation to go smoothly for everyone involved, open and honest lines of communication are crucial. By meeting with both your staff and the AMS partner frequently, the project will be kept on track and maintain visibility.
Dedicate Time to the Details
A deep understanding of your organization's processes and data is crucial for a successful implementation – for both you and your AMS provider. Every association operates similarly but differently, it's that nuance that's important to communicate to your AMS provider. Those distinctive details are what will help your new partner configure the system to meet your needs.
Consider your current processes. If they are helping your association perform optimally, you have no reason to change them. However, if your processes are making things difficult for your staff or members, you may want to change them. Take care to do this before you begin implementation. Always be sure to include the feedback of the subject matter experts for every process.
Whether your processes are new and improved or tried and true, you'll want to document them in detail to share with your AMS partner.
Don't forget about your data. Your new AMS will be useless if your data is in disarray, so it's important to dedicate time to cleaning out outdated or duplicate data before implementation. The saying goes, "garbage in, garbage out," so try to do as much of this as you can before migrating it over.
Then, throughout the project, continue to check your data to make sure that it has been mapped over correctly. Because you have a closer relationship with your data than any vendor could, you'll be able to easily see if something is out of place.
Get Internal Buy-In
Imagine this: your association has finally found an AMS that meets your needs and you have spent the past several months working to implement it, but the rest of your team isn't as excited as you are and they don't want to use the system.
What went wrong?
The key is to involve the rest of your team throughout the project - at the right times.
Invite them into conversations that are important to their business function in the AMS. By inviting them to be a part of implementation discussions, you are not only getting their buy-in, but you are collecting requirements based on their processes to ensure the new system will work as needed for them.
Speaking of those processes, once the system has been configured, you will want to invite those same staff members to test them in the new system. This is called "user acceptance testing" and it ensures that the AMS is performing according to their requirements. This is their opportunity to take the new system for a test drive and give any necessary feedback.
The last thing you want is your team logging into the new AMS for the first time during the final stages of implementation or, worse, after go-live.
We know that a lot of people are scared of implementing a new association management software. But with the right preparation, you can confidently enter this stage, ready to make an exciting change for your organization and its members.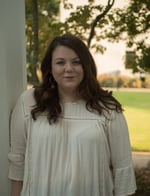 Emma is the Marketing Manager at Rhythm. When she's not thinking about all things content-related, you can find her traveling or shooting 35 mm film.