Association Management Software is a huge financial commitment for associations, oftentimes the largest purchase you make. On top of that, it's supposed to power the day-to-day of your organization. So what happens when your AMS doesn't fulfill all of your needs?
When your AMS isn't able to do everything you need it to, you're often forced to pay to configure or build out new functionalities to fit the unique needs of your association. If the provider ever upgrades their system, it's likely to break the customization that you already paid for. Some AMS providers will even charge you again to recreate and support the customization. Pretty frustrating, right?
What if you had an AMS that understood that software isn't a one-size-fits-all option and that is built to be flexible to the needs of your organization, allowing you to customize the portal (member website) or console by yourself?
Customization Shouldn't Be Hard
When's the last time you wanted to customize something within your AMS? The look or feel of a portal page, or even the location of a button on a microsite for your next event? These are pretty simple changes (you're not reinventing the wheel) but think about how you went about making them. Maybe you had to contact your AMS to make the change, have a meeting about what you wanted to be done, scope out the project for timeline and pricing, and ultimately pay for someone to make the change for you. It took some time, right?
It shouldn't.
In 2021, it should be expected that the software you use on a daily basis exists to make life easier. With a flexible AMS, customization options should be built-in. It should be intuitive and easy to log in and change the look and feel of your member portal, the call-out buttons on a microsite, or even custom forms.
Even more importantly, you should be able to make these changes on your own. Gone are the days of multiple meetings with a developer to explain the changes that your association needs to function at its best. Say goodbye to the long wait times while they configure the system to fit your needs – not to mention the expensive price tags.
There will occasionally be times where paying for a customization makes sense, but it shouldn't be the norm. Here are a few examples of things you should be able to make on your own:
Member website pages: It's important that your member portal mirrors the look and feel of your brand. You should be able to determine styling along with any content you want to include on various pages.
Any and every kind of

form

: In a customizable AMS, you can easily create or edit a form for anything you need. Add pages, workflows, and necessary fields to your membership and event registration forms, contact profiles forms, and so much more.
Reports and

queries

: Get into the data that you need to run your organization by toggling the fields and parameters of your insights.
Membership directories: Want to change the criteria in which members can search through your directories? What about the information that appears on the directory profile? No problem. Add search terms like "Member Type," "Location," or "District" and include the information that's important to your members on the directory entry with a snap of your fingers.
Confirmation emails: An all-inclusive AMS means you get to determine the content, subject line, and sender for all of your confirmation emails that are sent after any registration or purchase.
Invoice and payment templates: If your organization has different invoice and payment templates for different types of orders, a customizable AMS will allow you to change the look and feel of each.
At the end of the day, your association is busy. You're working tirelessly in your corner of the world to make a difference through your mission and your members. With an AMS that is natively customizable, there's one less hoop to jump through to give your members the exact experience they deserve.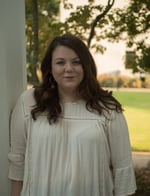 Emma is the Marketing Manager at Rhythm. When she's not thinking about all things content-related, you can find her traveling or shooting 35 mm film.