Think about why you originally got into the association space. Were you driven by the association's mission and the chance to meet others who are inspired by the same cause? The connections that are made through associations are invaluable, and members expect to be able to make those connections, too. Whether that be through the online member portal, virtual events, or an online community board, members expect to be able to engage with your community without leaving the house.
What do your members get out of an online community?
Let's face it, a major selling point of joining an association is to meet and connect with like-minded people in your field or industry. After a year of missed opportunities to connect, members are looking for associations that set themselves apart and offer more than just an annual meeting.
With an online community, your members get the chance to engage with each other in a specified place. They know that if they have a question about something or want to discuss a particular topic, they can go to the online community board. Members are also able to engage based on their interests and demographics. Online communities can be broken down into boards for young professionals, committee members, event attendees, and so much more.
With an online community, members don't have to wait until the next big event to connect and network with each other. An online community board builds a membership based on collaboration. Members can talk to each other firsthand and ask questions about best practices, give advice, or share anecdotal stories.
What do you get out of facilitating an online community forum?
When you can see firsthand what your community is talking about the most, you have a better understanding of what your members are interested in or where they might have questions. By having a deep understanding of their wants and needs, you can deliver a better experience for them. Develop content and resources based on what they are talking about. Answer their questions directly on the community board.
Another upside of an online community is the ability to keep members informed on updates within your association. Email updates get old, and members are more likely to overlook an email when they get hundreds a week. With an engaged community board, you can reach them where they are spending the most time. You're also able to promote engagement to other assets. If someone asks a question about best practices in your field, you can point them to the resources you have already created or to the upcoming event about that topic.
Choosing the right online engagement platform for your association
The right online engagement platform adds value to your membership. By choosing an engagement platform that is trustworthy and easy to use, your members will be much more likely to engage.
Find out if an online community platform integrates with your current AMS. The data stored in your association management software (AMS) will power your online community, allowing you to use demographic information to segment members however you'd like. If the integration is a powerful one, community access will be granted to new members immediately which means you're already delivering value on their first day.
If information changes in the AMS, it should communicate with the online community. Did one of your members decide to join a committee? Once their membership type is updated in the AMS, it should be reflected in the online community and they should be given access to the relevant committee board. Without an integration, you'll have to manually go through and grant access to each member on the proper community board, wasting precious time when they could be engaging.
We've heard it said, "if you build it, they will come." An online community is just that. Build a place for your members to engage with each other and get involved. Then, sit back and watch as they do.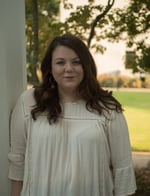 Emma is the Marketing Manager at Rhythm. When she's not thinking about all things content-related, you can find her traveling or shooting 35 mm film.