We've had a busy quarter over here at Rhythm. Gathering feedback from customers, building new features and functionalities with the customer in mind, and wrapping it all up to share with you takes time – but we think it's worth it.
Delighting the customer is our north star – always. When we set out to build anything new in Rhythm, we know that the feedback from our customers is integral in building out an AMS that you and your members love.
If you were able to make it to Rhythm's December Customer Event, then you might recognize some of these new features. Here's the lowdown on everything new to Rhythm:
CAREER CENTER
We heard you wanted a place for your members to share job postings, apply for new opportunities, and establish your association as a reputable source for high-quality candidates. Introducing the Career Center, a highly configurable job posting board and place for members to engage in your field.
Offer a single place for members to search and apply for new opportunities
Establish your association as a source of high-quality job applicants
Generate non-dues revenue through selling customizable job packages
Learn more about the Career Center
EXHIBITORS
Conferences are a major source of revenue - from registrations and sponsors to exhibitors, every piece is integral to a successful event. With Exhibit management, there's now a seamless process of setting up booths and enabling booth purchases in the portal.
Configure your expo hall with a floor map, custom booth sizes and types, and associated fees
Offer exhibitors an intuitive registration experience using the custom form builder
Incentivize exhibitors to attend year after year with priority points
Learn more about Exhibitor Management
ABSTRACTS
Take your events to the next level with a streamlined way to accept, review, and accept abstract submissions for event sessions.
Offer submitters an intuitive experience with a configurable abstract submission process
Make it easy for reviewers to evaluate submissions by assigning abstracts using rules
In a seamless integration with Events, accepted abstracts will be added as sessions in their corresponding event
Learn more about Abstract Management
CHAPTER LEADERS
Chapter leaders are an asset to your association – so let's give them more access to the portal. Fine-tune the level of access they're granted, so they have all the information they need, and none that they don't. Now, they can better serve your organization, and it reduces your team's manual workload – without compromising the safety and security of your member information.
Enjoy fine-grained control over chapter leader permissions in the console
Give chapter leaders access to view chapter-specific queries in the portal
Allow chapter leaders to join and renew members with administrative forms and page layouts
Learn more about Chapter Leader functionality
DIRECTORIES
We heard your members wanted more ways to connect with each other – your association is a community for them, after all. That's why Rhythm launched various types of directories – all meant to allow your members to connect with each other, only with the criteria that you choose to be displayed. We even designed three directories templates that your organization can use (free of charge) to easily design your directories, choose what fields are displayed, and change the visual organization of information.
Fine-tune the criteria members can use to search
Style your directories using templates or CSS
Choose exactly what fields of information are displayed to users
Learn more about Rhythm Directories
GROUP REGISTRATION
For many associations, events are a main source of their annual revenue. That's why it's crucial for there to be a seamless, friction-free process by which someone can easily register multiple people from their organization to attend an event. With group registration, one person can register a group of people for an event, which means only one individual needs to deal with payment details, scheduling, and everything else that comes with event registration.
An intuitive and accessible portal interface makes it easy for an individual to register a group
Enjoy a flexible and hassle-free experience with the ability to substitute and edit registrations
Incentivize larger groups by offering tiered discounts based on group size

Learn more about Group Registration
RHYTHM + CLOWDER INTEGRATION
Now more than ever your members are looking for more ways to engage with your association. That's why we partnered with Clowder to push the information hosted in Rhythm to a mobile app. With the Clowder integration, your members can easily update their membership information, view directories, see event information, and more from an app downloaded directly on their phones.
Engage your members through the use of a mobile app
Meet your members where they are by giving them another way to engage with your association
Your members can quickly update their profile information, view directories, get alerts when their membership needs to be renewed, and so much more.
Learn more about our integration with Clowder
RHYTHM + ELEVATE LMS INTEGRATION
Give educational content its time to shine with the Rhythm + Elevate LMS integration. Now, your data in Rhythm makes it easier than ever to provide learners access to courses and exams hosted inside of Elevate LMS, give special discounts or member-based pricing, and easily track credits towards a certification or goal.
Deliver and host meaningful and educational content for your members
Give members immediate access to your educational courses through the Rhythm + Elevate LMS Integration
Manage member pricing, tiered-pricing, discounts, and coupons
Learn more about our integration with Elevate LMS
RHYTHM + QUICKBOOKS ONLINE INTEGRATION
Historically, managing your finances inside of your AMS has been a headache for associations. With the Rhythm + Quickbooks online integration, it's easier than ever to get the full picture of your association's financial health, download your accounts receivable into QuickBooks Online, report to the board, and feel confident in the accounting and finances of your organization.
Have confidence in your bookkeeping

Say goodbye to human error – simply press download in Rhythm and your accounts receivable will be automatically uploaded into QuickBooks Online

Get a complete picture of your association's finances
Learn more about our integration with Quickbooks Online
Even though we were busy this quarter – this is just the beginning. Our customers and your members deserve an AMS that serves their unique needs and allows their association to meet its mission. You keep your eyes on delivering the best member experience, and we'll keep focusing on helping you get there.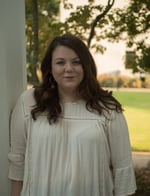 Emma is the Marketing Manager at Rhythm. When she's not thinking about all things content-related, you can find her traveling or shooting 35 mm film.